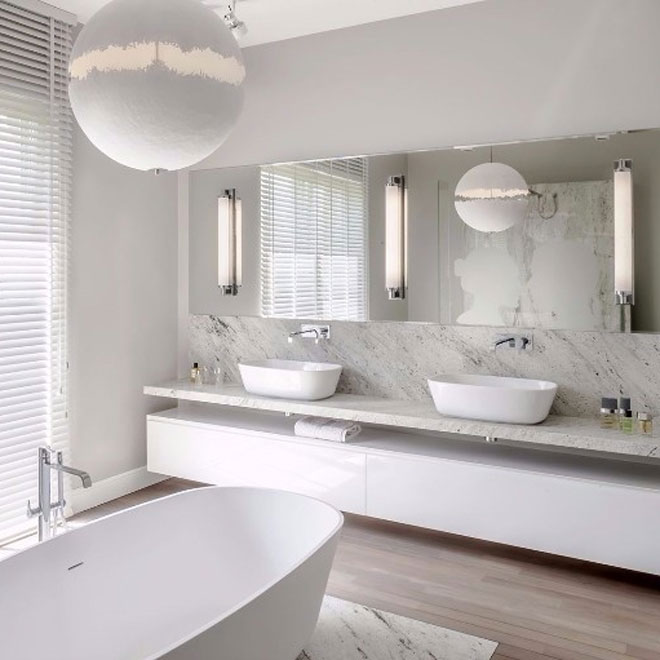 Bathrooms are high-traffic places and normally get used multiple times per day. For this reason it's no wonder that our bathrooms are the most renovated and redecorated rooms in our home. We want them to be very functional, up to date and look aesthetically pleasing so that we can relax and make the most of the space. If you're thinking of making some changes in your bathroom, then any one of these 5 areas for improvement will make a huge difference to your bathroom space.
Vanity makeover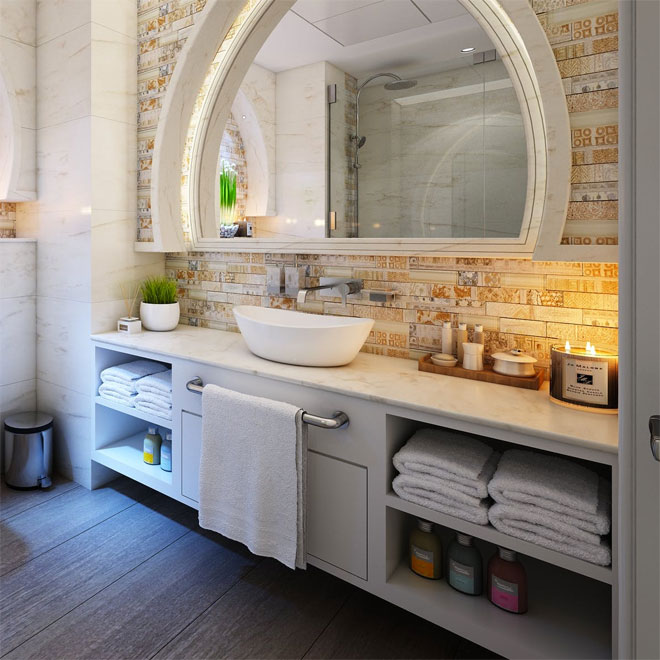 If you don't have a vanity in your bathroom or the one you have is a bit tired, this is a great upgrade and will make a huge difference to your room. Many people choose to combine their basin with a vanity as it hides the unsightly basin stem and utilises this under-sink space really well – particularly important if space is limited.
An excellent place to get started is by having a good tidy up in your current bathroom. Getting rid of old shampoos, make up and towels will show you what you've got and what you actually need to use your vanity for.
Vanities come in ornate and minimalist styles and can be floor or wall-mounted. When choosing taps, you'll need to ensure that they match the style of the vanity unit, otherwise it could look a bit mis-matched. Also think about incorporating a light above or other side of a mirror in order to give your new vanity an extra special feature.
You do not need to spend a huge account to make a difference with a new vanity unit. You'll find it smartens up your bathroom by giving it a focal point and some additional storage space.
Bathroom cabinet makeover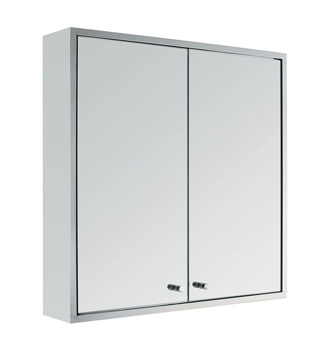 Sometimes a bathroom cabinet can be incorporated into a vanity unit, but often it will be a separate unit completely. Depending on the layout of your bathroom, a bathroom cabinet will be installed on the wall above your basin, though as long as it's head height and easily accessible, you really can't go wrong.
Many bathroom cabinets are mirrored which makes for a very useful space-saver, rather than having to find room to put a mirror elsewhere in the bathroom. This can help to serve as a shaving or make-up applying mirror. Again, there are many choices of bathroom cabinet, but if you do have a relatively small bathroom, you might want to consider a minimalist or streamlined one so that it doesn't project out from the wall too much. If you have a large bathroom, you could opt for a large freestanding one, which can look fantastic.
Adding a brand new bathroom cabinet into your bathroom can really help with organisation as they hide the clutter and tend to house things that you reach for most often. This is a small upgrade with very big benefits.
Tile makeover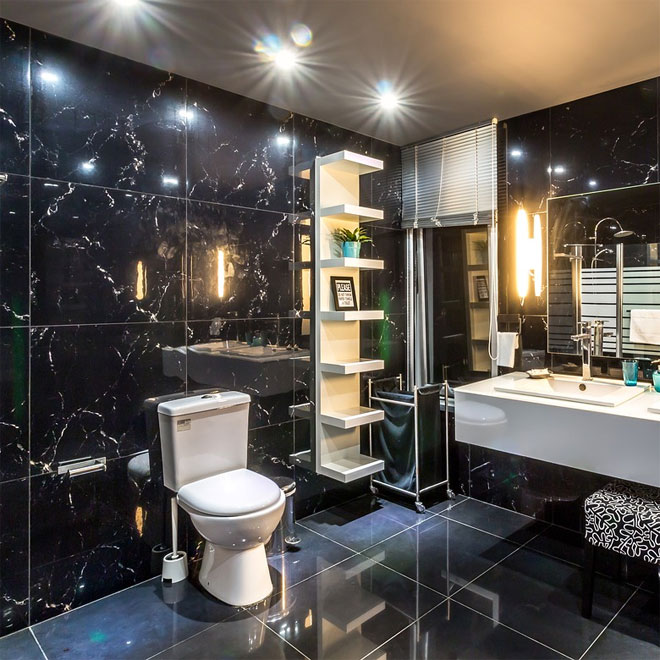 You probably hardly need to be told just how much of an improvement new tiles can make to a bathroom. When people look to upgrade their bathrooms, one of the main reasons is because of some old or outdated tiles.
In days gone by, there was very limited choice of colour or style when it came to tiles and most of them were a similar square shape and size. These days however the choice is absolutely endless with massive variety of colour, finish and size available.
It's very important to look at your budget and the amount of surface area that you want to cover with tiles. Just around the basin and shower will be cheapest and can definitely have a massive impact, but a modern trend is to have huge tiles covering most of the walls. These are easy to keep clean and are very durable which means you won't have to do much additional decorating for a long time to come.
It's important to note floor tiles are much tougher to cut than wall tiles, so don't make the common mistake of accidentally buying floor tiles that you intend to go on the wall. Your tiler won't be particularly happy with you!
Shower makeover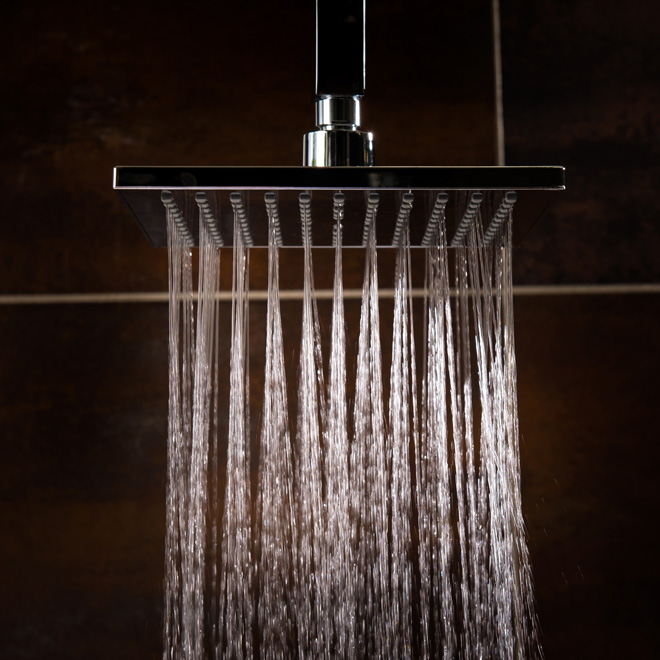 A shower is on of the best things ever invented. It allows us a quick way to wash without the long wait, as you have to with a traditional bath tub. Over time however, shower heads can get blocked, shower hoses can split and shower trays can lose their finish. When this happens you end up with a situation where you're just rushing through something that should be a pleasure.
Adding a new shower cubicle with a beautiful cascading rain shower and matching thermostatic shower valve is the ultimate way of improving your showering experience. But even if this isn't possible, simply replacing your shower head could be enough to enable you to start to enjoy showering again.
Showers can be very luxurious and you don't have miss out on pampering yourself just because you don't have a bath. Body jets and cascading showers are just two of the options that allow showers to give you that feeling of indulgence. A new shower will be something you use everyday and will usually be considered money well spent.
Bath makeover
A long soak in the tub is one of the most relaxing things you can do in your home. You can close the door and forget the stresses of every day life and focus on the warmth and healing qualities of the hot water. Unfortunately, if your bath is old, stained and riddled with limescale, you might have trouble maximising your bathroom's full potential.
Bath design has improved dramatically in recent years and more and more people are opting to install luxury whirlpool baths in their bathrooms. Though the benefits of hydrotherapy has been around for hundreds of years, with it having a beneficial impact on joints, muscles and our mental wellbeing, it has now got to the stage where you can indulge in the feeling of an expensive spa retreat in your own bathroom.
Here at Luna Spas, we have one of the best and well-priced ranges of whirlpool baths in the UK – all f which are really well-suited for those of you considering an upgrade to the bath in your bathroom. We work with some of the leading and most trusted bathroom brands offering our customers a wide range of high-quality bathroom fixtures and products. Each brand offers distinctive product design, all created with the highest quality components using the most innovative design methods to achieve a truly unique and special product for our customers.
Whether you are seeking a modern, minimalistic bathroom or would rather a vibrant and bold space with statement fixtures and fittings, we are sure you will find something perfect for your bathroom style.
RELATED ARTICLES
• A quick guide to bathroom vanity units
• Baths with or without a shower?