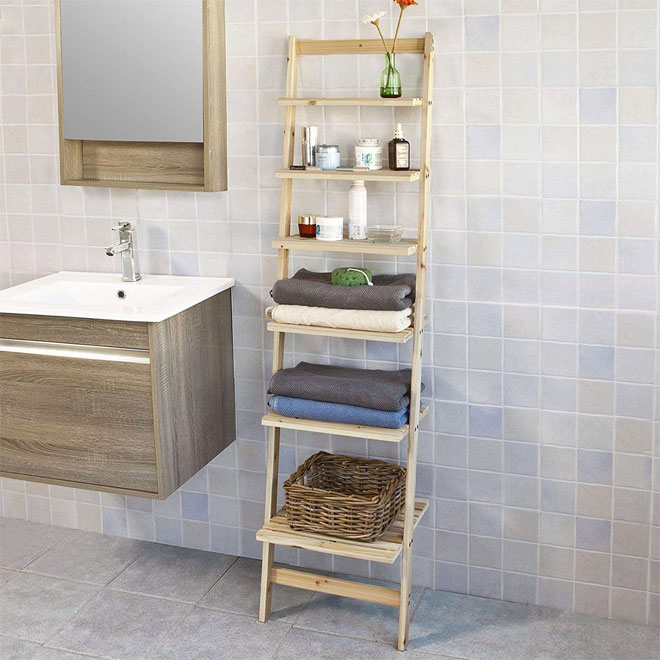 If you've just redecorated or you're thinking about giving your bathroom a freshen-up, one of the easiest ways to take your interior design plan to the next level is by adding in some funky accessories.
Luna bath pillow
Luna chrome bath grips
Bathroom and sink accessory set
Ladder storage shelf unit
Wooden anti-slip floor mat
Introducing some well-chosen accessories is a great way to transform your bathroom with minimal effort. As long as you've got a stylish eye, accessorising your bathroom can be a fun and simple task.
If you don't have a stylish eye, then short cut the process by reading this article!
Luna bath pillow
Relax your neck and shoulders when leaning back in your luxury bath, with this lovely Luna Spas bath pillow.
Adding a touch of elegance to your bath, these comfortable pillows come with a soft foam core encased in a water tight vinyl covering.
Designed in Italy and measuring 700 x 340mm, each pillow comes with a patented suction cup, allowing you to securely position your pillow wherever you want!
---
Luna chrome bath grips
This beautiful pair of chrome handle grips are compatible with most of our baths.
Having some grab handles make getting in and out of any bath much easier, particularly for those with mobility problems.
The stylish chrome plating means they fit in perfectly with the rest of your bathroom's fixtures and fittings, giving incredible style and fantastic functionality.
---
Bathroom & sink accessory set
No matter what the state of your tiles, the paintwork or your bathroom suite, choosing some matching practical accessories is an easy way of tying the room together.
One of the best ways to do this is by getting matching vanity and toilet accessories like the stylish metallic set above.
Matching toothbrush and toothpaste holders, soap dish, liquid soap dispenser, rubbish bin and toilet brush sets will instantly transform your bathroom into something that seems well-planned and organised (even if it's not!).
---
Ladder storage shelf-unit
All the rage this year is introducing a shelving/storage unit into your bathroom that looks like a ladder.
They look good and can help with making some things that you need to use regularly to be displayed and organised in an aesthetically-pleasing manner.
If you've got enough space and need some extra storage space then a ladder-style shelving unit could be the next accessory you need to get for your bathroom!
---
Wooden anti-slip floor mat
Step out of your shower in style! Wooden or bamboo 'duckboards' are becoming increasing popular in bathrooms around the UK.
If you've got a tiled floor in your bathroom then you need to have something you can step out onto to stop you slipping.
This stylish wooden floor mat is more hygienic and durable than a material bath mat and also contains some rubber feet underneath to stop it moving around.
---
RELATED ARTICLES
• The best way to refresh your bathroom space
• The best bathroom accessories for comfort