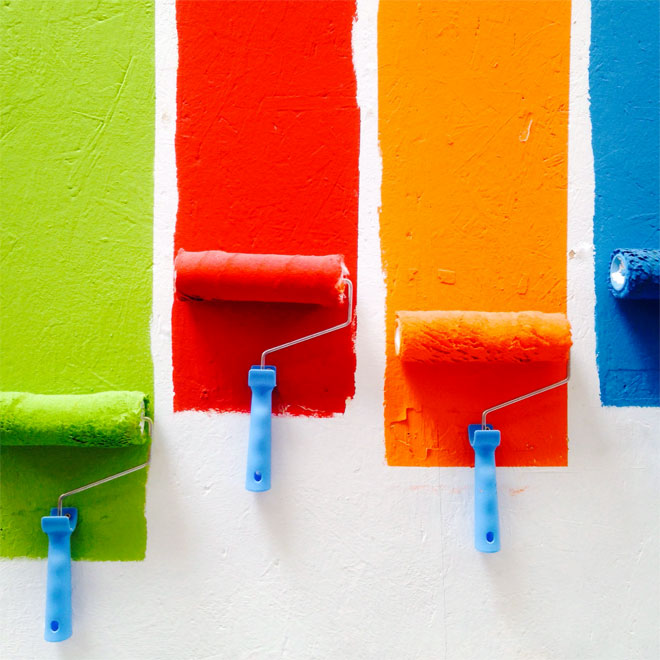 Because bathrooms are well used and are exposed to a lot of moisture, paintwork can become discoloured and faded over time.
Painting your bathroom walls is an easy way to give the room a refresh without breaking the bank.
In this article, we'll give you some inspiration for painting your bathroom and have it feeling like new again in 2020.
Black and white colour scheme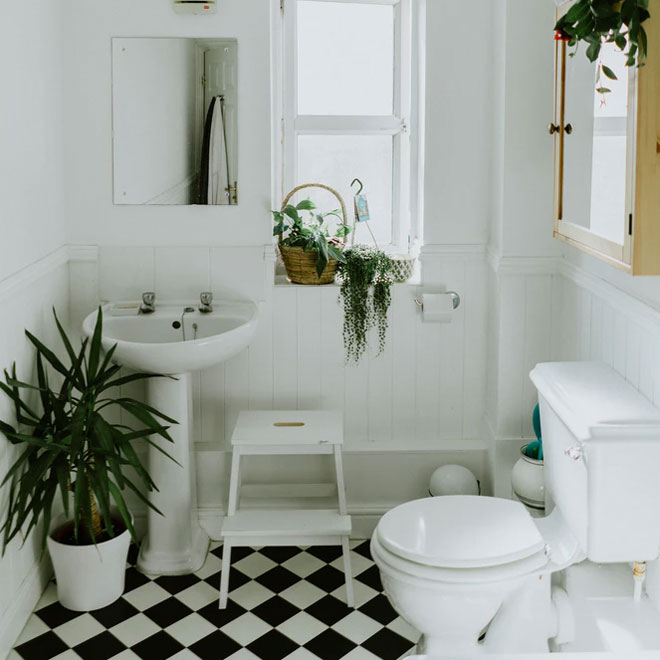 If you want something clean, classic and minimalist, then you can't go wrong with a black and white bathroom.
White painted walls with black and white floor tiles looks fantastic, especially when paired with chrome fixtures and fittings like taps and towel rails.
Painting your walls white is an easy job and is a great option if you're worried about choosing the wrong colour and regretting later. In this instance, you can always use colourful accessories (like towels and bath mats) to inject some colour.
Another positive of having a black and white colour scheme in your bathroom is that it won't put off buyers if you decide to sell your home.
Stone, earthy and neutral colour tones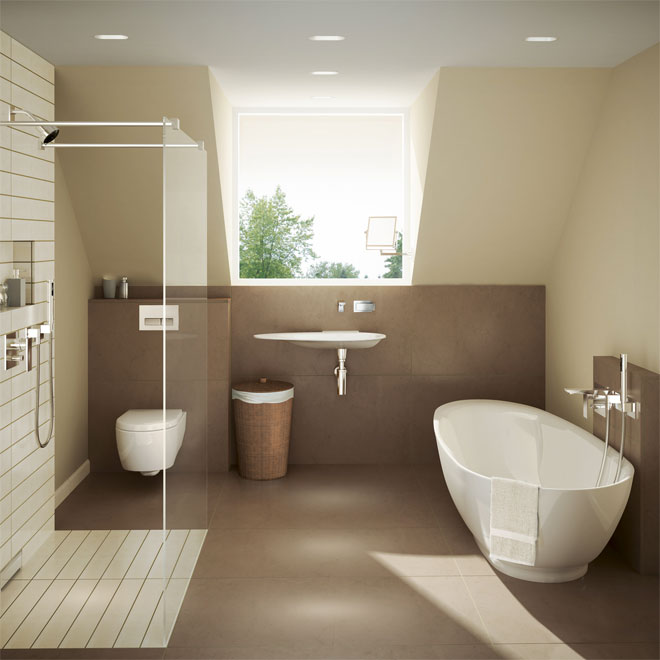 Varying shades of brown and cream paints can work wonders in bathrooms of all shapes and sizes.
Coffee, mocha and stone colours provide a warmer alternative to the often clinical bright white finish. As we often use the bathroom to relax and escape the outside world, colours of an earthy nature definitely enhance that feeling of calmness.
As with black and white, natural tones are timeless so using these colour paints are effectively future-proofing your bathroom in terms of style.
If opting for a neutral colour scheme, don't be tempted to inject and bright colours. While this works with black and white, bold colours can look jarring among the browns and creams unless you really know what you're doing.
Grey monochrome style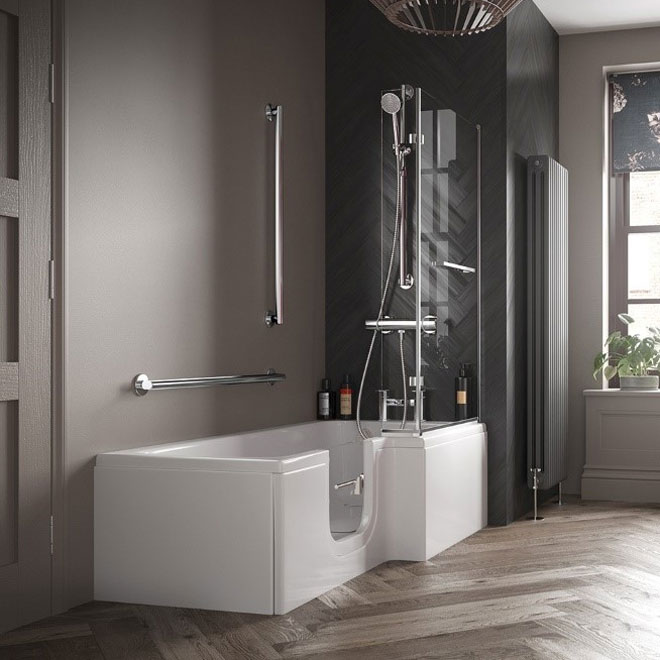 While providing a sense of cleanliness and organisation, pairing some shades of grey with a white bathroom suite provides a subtler contrast than black and white.
Not only does it look stylish and contemporary, it also allows you to add some small flashes of bright colour you wouldn't be able to get away with using other colour schemes. Some great examples are lime green and pink.
Done well, a monochromatic colour scheme can make your bathroom feel warm and relaxing and is a slightly more offbeat choice than the ones mentioned above.
A bright yellow paint job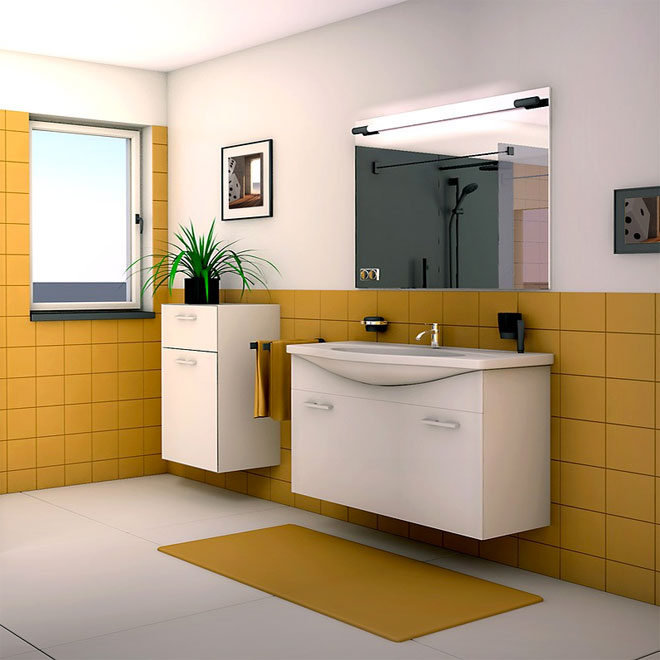 If you're not interested in what other people may think and just want a colour that is bold and bright, then going for a strong shade of yellow paint is popular for bathrooms right now.
Whether it's a pale, turmeric or canary shade of yellow, all with give a feeling of warmth and positivity to your bathroom.
Though how you implement your yellow paint is up to you, our recommendation is to use it sparingly to avoid overpowering the room. A good option is to paint one feature wall and keep the rest white, or you can paint the bottom half white and paint the top half yellow.
Yellow paint is currently very popular, but please be aware trends can change, so cannot be considered a timeless classic like black and white.
Whatever helps you to relax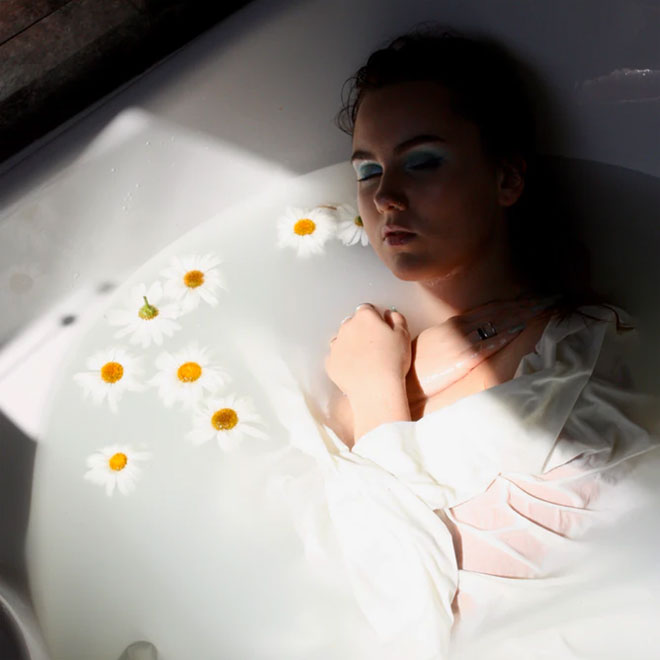 Ultimately, the colour you choose to paint your bathroom should be something you like and a shade that you feel comfortable with.
A bathroom is the main room in your house where you should be able to completely wind down, so getting the right colour choice can have a huge impact.
When you lie back in a luxury whirlpool bath, for example, knowing that you've got your surroundings decorated to perfection will give you that extra boost in terms of your mental and physical wellbeing.
---
RELATED ARTICLES
• Best budget bathroom ideas and designs 2020
• A guide to bathroom colour schemes