Refurbishing the bathroom can be daunting. There are lots of things to take into consideration from deciding how much you can spend to choosing the right products and whether or not to change the layout.
You will also need to decide how much of the work you will tackle yourself and what you want to leave to the professionals.
To ensure that your bathroom refurbishment runs as smoothly as possible we have created this handy checklist to help keep your project on track.
The key to a successful bathroom refurbishment is all about planning and timing.
Six months before
Three months before
Two months before
One month before
Last few days
Six months before
The best place to start when it comes to your new bathroom is to get inspired.
Figure out the kind of look and feel that you want to achieve, look through magazines and even sites such as Pinterest, which both offer an array of ideas.
It's also a good idea to make a scrapbook or board with all the images that inspire you and make notes of what you like about each image.
It may be a bit early to talk to a professional bathroom fitter, but you can start asking around for recommendations and doing some research.
Make a list, which you can come back to when you are ready to hire someone.
Consider the layout and decide if you want to keep it the same.
Make a note of what works and what doesn't work with the current layout and also think about your storage requirements.
You will also need to find out if moving the bath, toilet and basin is feasible.
Do you want to increase the size of the bathroom or just improve the way it looks?
Three months before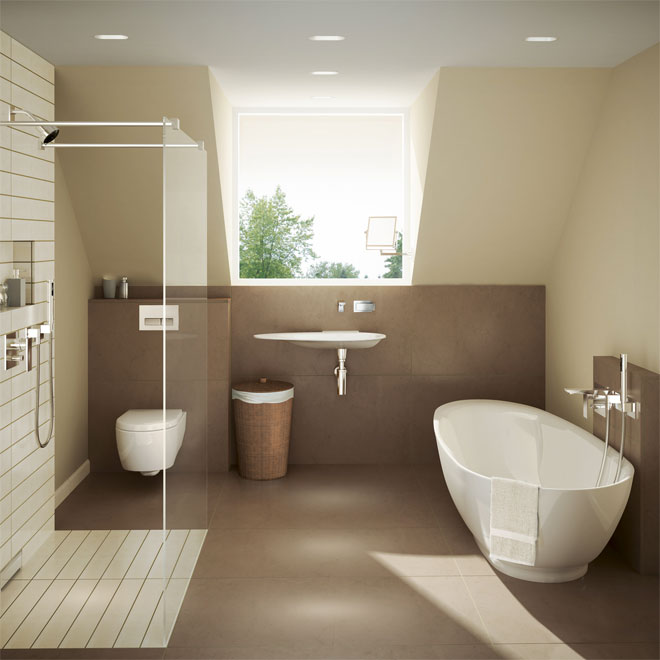 Once you have decided on the look and the layout you will need to finalise the budget.
When you have the budget figured out it's a good idea to put a set amount towards labour costs and then you can see exactly what there is to spend on fixtures and tiles etc.
With just a few months to go before ripping out the old bathroom, it's a good idea to hire a professional and ask them to look through your ideas and plans to see if everything is possible.
Don't forget to check over estimates and references. The bathroom fitter should commit to a start date, advise of a timescale when he requires materials etc. and give an estimation of when the refurbishment work will be completed.
Remember to find out how long you will be without a shower, which is essential if you only have one bathroom and make alternative plans.
Two months before
Now you can buy fixtures, fittings and tiles.
It's always a good idea to purchase fixtures early as some may take a while to arrive.
Allowing plenty of time for deliveries will ensure your project is kept on track.
One month before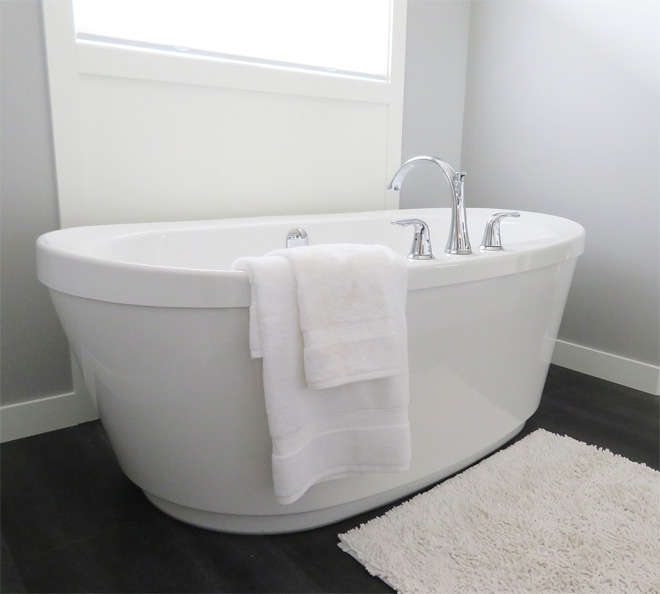 Now is a good time to get things prepared for the bathroom fitter, make sure to clear out cabinets and storage units and create a space where you can get ready while the refurbishment is going on.
It's also the perfect time to shop for bathroom accessories and towels.
Always ensure to communicate with the person who is carrying out the work and keep a track of where the job is up to.
Last few days
If the project runs a few days over the estimated finishing date, don't panic.
If that's the only problem that has been encountered then you have got off lightly.
Also, make sure to inspect the work that has been carried out and address it before the job is finally completed.
Finally, enjoy your new bathroom!
---
RELATED ARTICLES
• 10 of the best design ideas for a small bathroom
• A guide to bathroom colour schemes
• 10 contemporary show room ideas
---