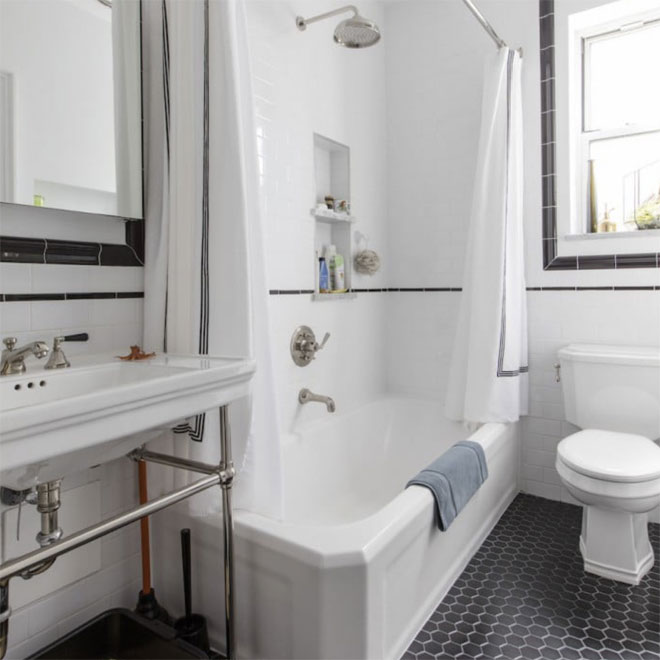 If you are not particularly creatively minded then the prospect of redesigning your bathroom can be a bit daunting.
This is especially so if you have a small bathroom requiring extra use of the imagination in order to make the best use of space.
In order to help you with some inspiration for your bathroom, we've included a selection of fantastic (but achievable) before and after photos of some small bathroom transformations.
As you'll see, with a bit of thought and hard work, it's perfectly possible to turn a dull and uninspiring room that you can't wait to get out of into something stylish and welcoming that you won't want to leave!
---
1. Traditional bathroom transformation
A traditional bathroom kept traditional but with an up-to-date twist. Just look at how much lighter the room is with the white tiles!
---
2. Crips white bathroom remodel
An old bathroom upgraded to a clean white tiled design. Not only just the room look bright and crisp, the sink incorporated into the cabinet is an excellent use of space and great for a little extra storage.
---
3. Stylish minimalist bathroom makeover
An old and dingy looking bathroom completely transformed into a white minimalist room. What a difference and it doesn't look like they've broken the bank to achieve this either.
---
4. Remodelled bathroom design
A small bathroom smartened up and changed lay out for a more practical room. The removal of the low wall has allowed the toilet to be moved and a bath/shower to be fitted in, making the room much smarter and mor functional.
---
5. Chic bathroom upgrade
A non-descript bathroom upgraded to something chic yet traditional. This bathroom now has the definition of 'character', especially with those stunning floor tiles.
---
6. Black & white bathroom reimagined
An average white bathroom reimagined into a crisp monochrome delight. The contrast provided by the black flooring makes this room a real eye-catcher.
---
RELATED ARTICLES
• The welcoming warmth of a heated towel rail in your bathroom
• The best way to refresh your bathroom space