Having a small bathroom doesn't mean that you can't create a stylish space.
There are plenty of ways in which you can achieve a spacious look to your bathroom ranging from keeping surfaces clear from clutter to fitting a large mirror.
Here we share ten of the best small bathroom ideas.
Mirrored cabinets
Patterned wallpaper
Storage ledges
Wall-mounted vanity units
Shower bath
Large tiles
Iridescent tiles
Wall-hung basin and toilet
Luxurious touches
Bathroom accessories
---
Mirrored cabinets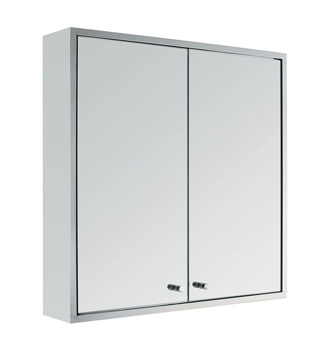 Mirrored cabinets and reflective surfaces provide a great way to create a spacious feel in a small bathroom as they bounce light around the room to make it appear bigger than it really is.
A mirrored cabinet combined with white walls and pale accessories helps to maximise the light, airy feel.
---
Patterned wallpaper
Patterned wallpaper can work really well in small bathrooms and adds extra depth and interest.
Having a small bathroom doesn't mean that you have to avoid pattern and colour, but by introducing these elements you can create a stylish and inviting space.
---
Storage ledges
No matter the size, a bathroom ledge will prove to be invaluable.
A ledge can be created by recessing one into the wall if you don't have a back to wall toilet.
Ledges are perfect for storing toiletries, spare towels or decorative objects.
---
Wall mounted vanity unit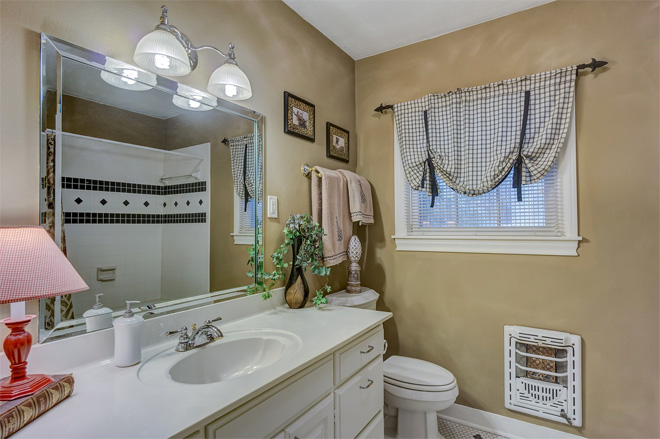 The more floor that's visible, the more spacious your bathroom will look and feel, so choose a wall mounted vanity unit.
Vanity units offer a stylish yet practical storage solution for your favourite toiletries to ensure that surfaces are kept clear from clutter.
If you're short on storage space you can place a couple of baskets underneath the vanity unit, which adds a nice touch too.
---
Shower bath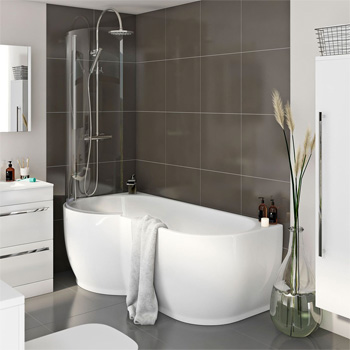 If you can't squeeze in a separate bath and shower enclosure opt for a shower bath to make the best use of a small space.
Available in square and p-shaped designs a shower bath widens out at one end to create a showering area as well as combining a spacious bathing area too.
---
Large tiles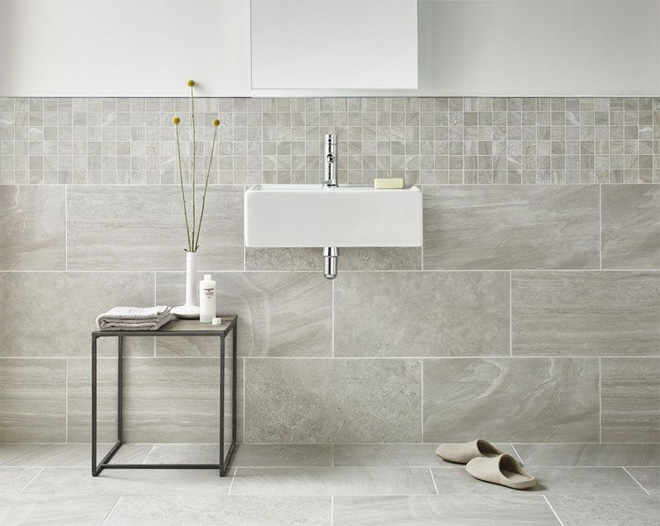 Using large floor and wall tiles is one of the best ways to make your small bathroom look bigger, as fewer grout lines create a much cleaner look.
---
Iridescent tiles
Create an airy feel to your small bathroom by choosing iridescent tiles in a pale colour, which will catch the light and add a touch of luxury too.
Iridescent tiles can be expensive, so use them on one wall or to highlight a certain feature such as a bath or basin.
---
Wall hung basin and toilet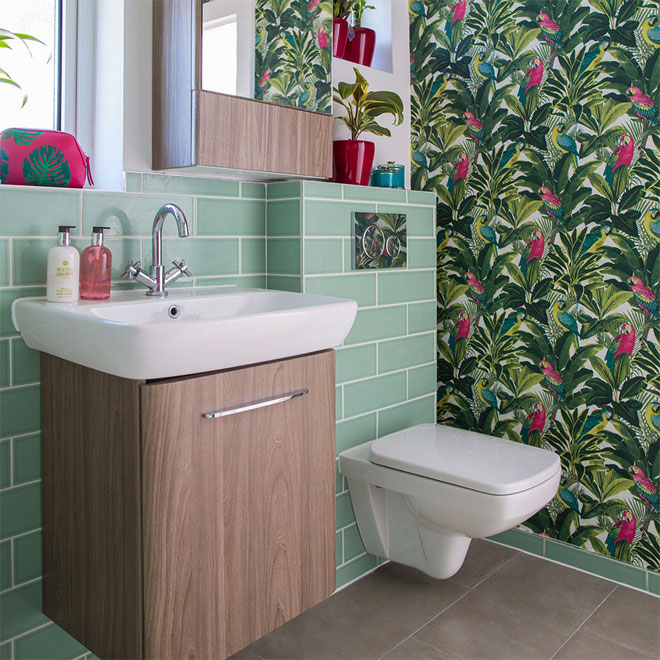 It's surprising how a basin with a full pedestal and a close coupled toilet can make a small space feel cluttered.
A wall hung basin and toilet will create a streamlined look to your bathroom and maximise floor space.
---
Luxurious touches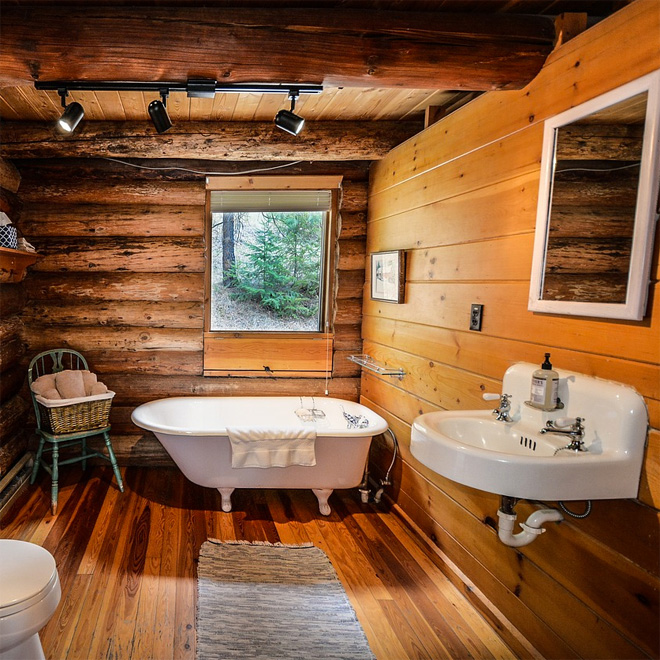 Just because your bathroom is compact, it doesn't mean you have to avoid luxurious finishing touches.
You can easily make this look work by choosing one key piece such as a statement mirror, make sure to keep the rest of the room simple and light in colour to avoid any clashes.
---
Bathroom accessories
There's always room for some stylish accessories, no matter how small your bathroom is.
Make use of window sills, shelves, ledges or even the top of a mirrored cabinet to display accessories.
The finishing touches help to give your bathroom some personality.
---
RELATED ARTICLES
• Top tips for creating a warm and inviting bathroom
• 5 bathroom ideas for a modern home
• 6 energy saving tips for your bathroom 
---