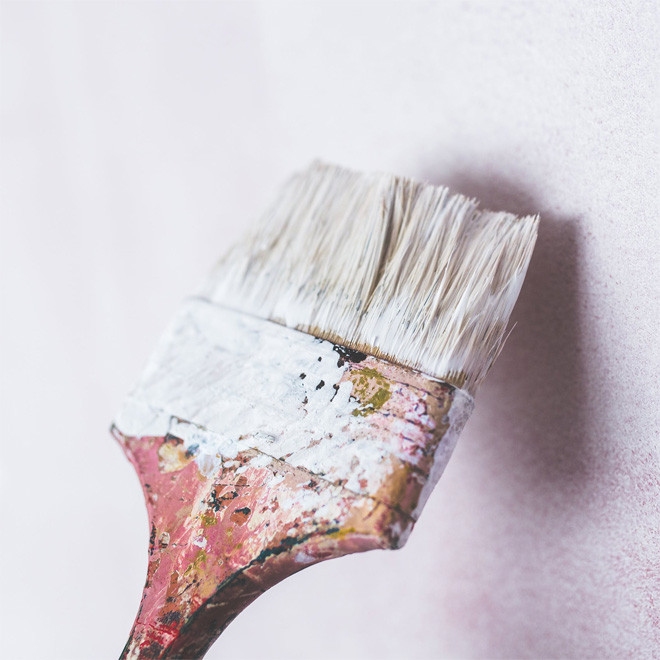 The bathroom 'Wallpaper v Paint' dilemma is a debate that's raged for millennia.
It's these kind of decisions that keep us up at night as what you decide to put on the walls of your bathroom can have repercussions for decades to come.
In this article, we answer the most common bathroom wallpaper and paint questions to help you make a decision.
Can you wallpaper a bathroom?
Yes, you certainly can. Though you may want to restrict the wallpapering to one wall away from the bath or shower. Creating a wallpapered feature wall can look fantastic, but keeping the inside of a shower tiled to deal with the water is recommended.
Is bathroom wallpaper waterproof?
Regular wallpaper is not made to provide a long-term solution to the very humid conditions of a family bathroom. If you put standard wallpaper on a bathroom wall, it will very quickly start to peel, grow mouldy and generally look scruffy.
Instead, look for splash-proof, washable or very durable wallpaper that can cope with the damp atmosphere found in bathrooms.
Can you paint over bathroom wallpaper?
In most rooms, painting over wallpaper with some wallpaper cover-up paint (or primer) is a very viable option. It can be time-consuming to remove wallpaper (especially if it's been painted over already) and can potentially damage the plasterboard underneath the paper.
However, when it comes to the bathroom, you'll need to decide whether if it's worth taking this kind of short cut. It's very easy for painted wallpaper to look bad, plus with the high amount of moisture in the air of a bathroom, you might find it look tired very quickly. Removing bathroom wallpaper may be more effort and expensive initially but you'll probably be glad of the results over the long term.
Will bathroom paint stop mould?
It's possible to buy anti-mould paint specifically designed to stop this problem. It's usually available in white, off-white or magnolia, but you can buy separate anti-mould additive that can be added to your choice of coloured paint.
What's the best paint colour for bathrooms?
This is a difficult question to answer because people have such varying tastes, however there are some general rules of thumb that you can stick to so that your bathroom colour scheme isn't a disaster.
Monochrome bathrooms (black, whites, greys) always look smart, clean and organised and are very common in all types of home.
Earth tones like browns, beiges and stones are a nice alternative to monochrome but are also generally accepted as being 'safe' for bathrooms.
Having an accent or feature wall (green, blue, red, yellow) can be a great idea if you want to create a contrast but don't want to risk overpowering the room.
Keeping small bathrooms light will give the illusion of space, whereas you can get away with darker colours in large bathrooms. However there are plenty of interior designers who have broken these rules and done a fantastic job. The choices are endless and entirely your decision!
RELATED ARTICLES
• Can you wallpaper a bathroom?
• Does bathroom paint stop mould?