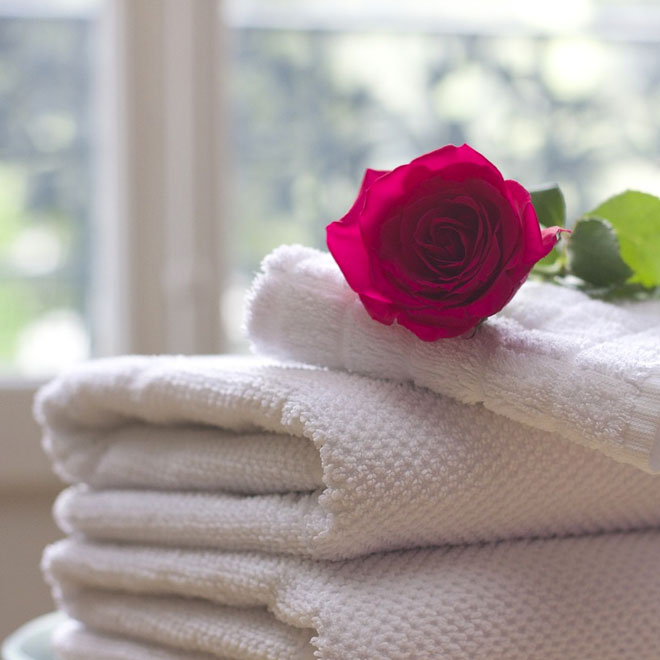 With more homeowners expecting more bathrooms per house than ever before, adding a new bathroom is now recommended by estate agents as one of the best ways to increase the value of your home and to make it more attractive to potential buyers.
The bathroom is no longer simply a place to get washed and ready in the morning, more people are taking inspiration from luxury hotels and spas to transform one of the most used rooms in the home into a place where they can relax and enjoy a spa-like experience.
Think underfloor heating, designer showers, luxurious furniture, whirlpool baths and sleek styling.
Statement Bath or Shower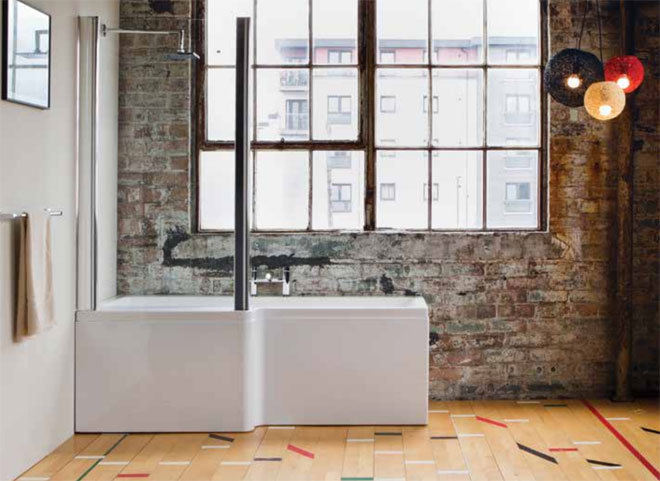 A statement bath should be the focal point of any spa-style bathroom. If possible, position your bath in the centre of the bathroom so it's the first thing your eye gets drawn to when you walk into the room.
Stylish models such as our Modern J Shaped Whirlpool Baths are perfect to add some luxury to your bathroom. They use jets to create motion in the water, allowing you to relax and bathe in total comfort.
Sleek wet room glass panels are another key element in a spa-style bathroom. For a streamlined look fit a single glass panel to the floor or on top of a low profile shower tray that's inset into the floor.
Mood Lighting and Chromotherapy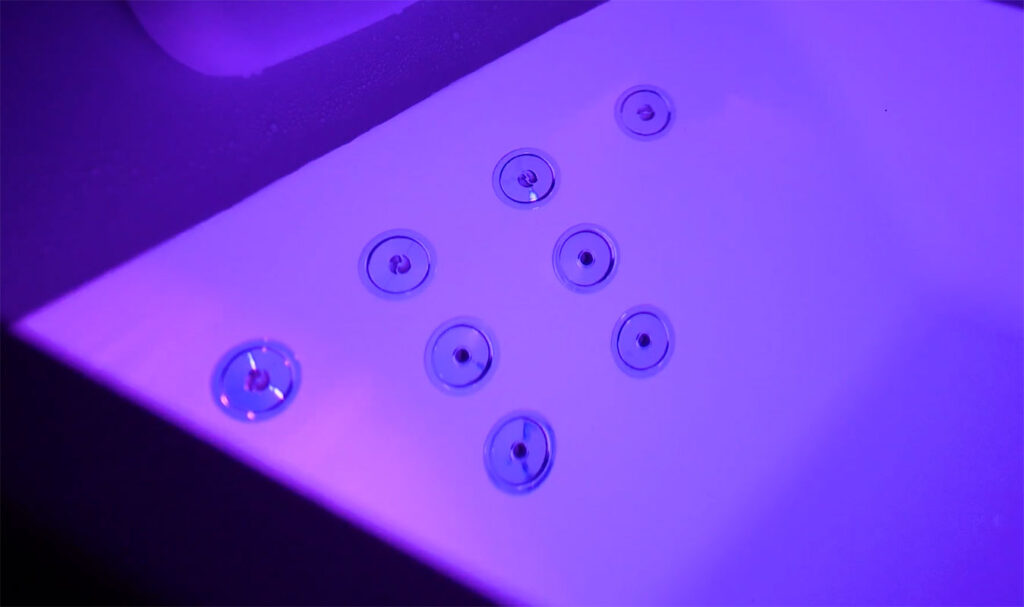 Chromotherapy is an increasingly popular science that uses colours to adjust the way to body feels.
In the pursuit of taking care of yourself, we can fit state-of-the-art LED chromotherapy lights to most of our baths. We use cutting edge LED bulbs that are far longer lasting and give greater light than standard LEDs.
Chromotherapy has been in existence for thousands of years and is particularly important in winter to combat SAD. The chromotherapy lights we provide are mounted under the water level so as to colour all the water and make an impact on the entire mood of your bathroom oasis.
Contemporary Furniture
Contemporary furniture is essential for creating storage space in a spa-style bathroom. Opt for a wall-mounted vanity unit to maximise floor space and choose a wood finish to create a feeling of luxury.
Why not create a 'his-and-hers' look by fitting a vanity unit with double basins?
Adding furniture to your bathroom will help to keep things organised and give a sense of order to the room.
Surface clutter is well-known to increase stress levels so having clear surfaces will help you to relax and create that popular minimalist aesthetic.
Bathroom Accessories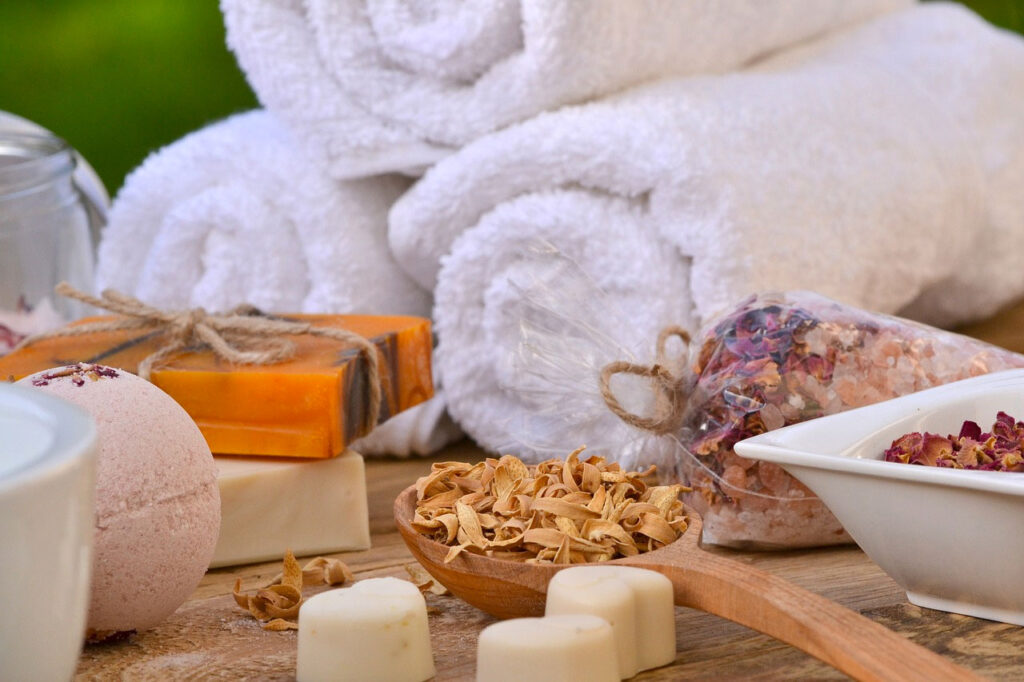 Warm, luxurious towels are a definite must in your spa-style bathroom, so make sure to fit a heated towel rail close to the basin, shower or bath so your toasty, dry towels are within easy reach.
The right details can really make a spa-style bathroom come together. Mood lighting provides the perfect way to truly relax while soaking in the bath.
Incorporating technology into the bathroom is becoming increasingly popular, so look out for mirrors with LED lights, demist pads, and Bluetooth and integrated speakers, so you can to listen to music or catch up with the latest news.
We've got you covered in our article on must-have bathroom accessories.
Plants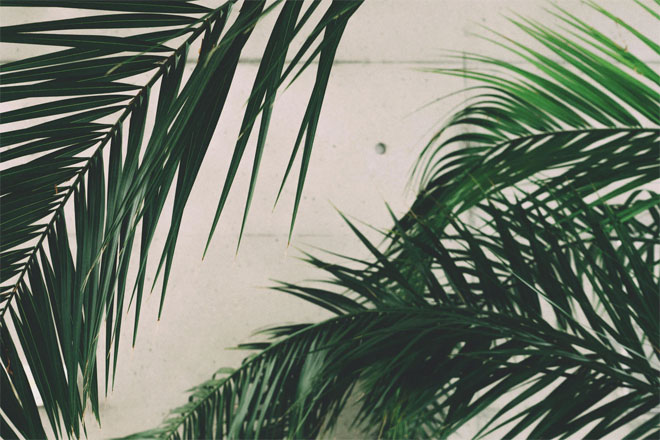 Adding some beautiful green plants into your bathroom will help greatly with creating a relaxing spa-style atmosphere.
Plants help to bring the outside in and many will thrive in the hot and humid conditions of a bathroom with a whirlpool bath.
Providing the important function of purifying the air, plants also provide a fantastic splash of colour. This is particularly important for providing a counterbalance to black and white bathrooms.
---
RELATED ARTICLES
• Bathroom paint ideas for your home
• Space saving ideas for your bathroom