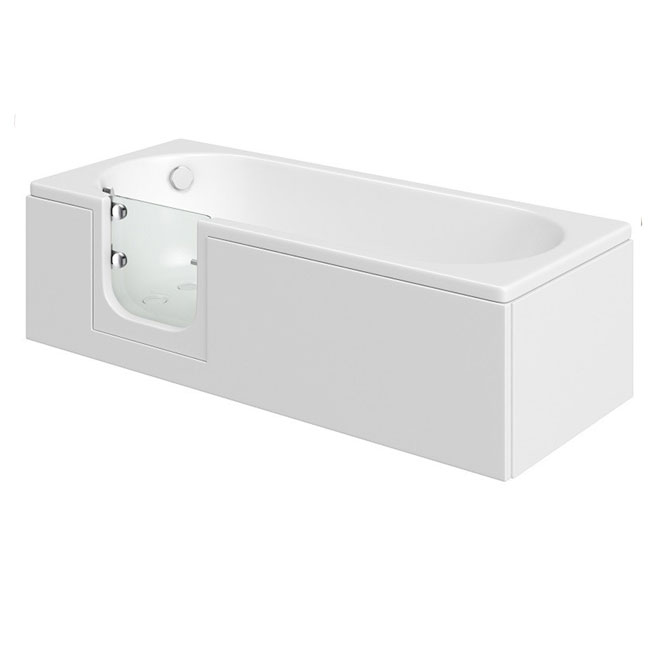 For anyone with a disability related to mobility, having a comfortable and easily-accessible bathroom is vital for dignity and having a high standard of life.
Safety and comfort are of utmost importance when designing an accessible bathroom, so in this article we'll discuss 3 important features to consider.
Easy-access bath
A regular bath with high sides can be very difficult to access for people with limited mobility.
Fortunately, there are a good range of easy-access baths that are fitted with a side door, enabling a person to enter the bath with ease and then fill up the water around then.
Some baths are traditionally shaped, allowing you to get in, lie back and enjoy the relaxing qualities of a hot bath whilst avoiding the inconvenience of stepping over high sides.
For those with particularly restricted movement, a sit-down bath may be a better choice. A sit-down bath is squarer and more upright than a standard bath and allows you to open the door and sit down, almost like in a chair, as the bath fills up around you. Getting up from a seat is easier that from a horizontal position.
Handrails
Well-placed handrails are another incredibly important featured of all mobility-friendly bathrooms.
A handrail next to the bath or in the shower are essential to help support a person's weight while getting up, sitting down and for manoeuvring comfortably.
A grab rail should also be placed next to the toilet (either side if possible) to allow someone to lower and raise themselves with ease.
Likewise, it would be very helpful for someone who can stand but needs support to have handrails either side of a sink or mirror. This allows ablutions to be completed with one hand and the option of the body being supported with the other.
Hand rails placed on the back of the main bathroom door can also be useful, allowing for very easy opening and closing with needing to stretch for a handle.
Non-slip flooring
Slipping over on a wet floor in a bathroom is easily done by an able-bodied person, so for anyone with disabilities or mobility issues, it's doubly important to address and get right.
Vinyl flooring is a popular choice because it's non-slip, easy to install and clean, wheelchair friendly and one of the best value types of flooring you can get.
Small mosaic tiles are also a good option as they are much gripper underfoot than large smooth floor tiles and less prone to becoming slippery when wet. Mosaic tiles are particularly for wet rooms and, while quite time-consuming to install, are durable and look fantastic. There are not really suitable for wheelchair users however.
RELATED ARTICLES
• Our quick and simple bathtub buying guide
• Baths with doors: what should you look for?