Everyone is familiar with black and white bathrooms, but this has often meant that another obvious colour choice has been overlooked.
This is no longer the case as grey has started being used more and more in bathrooms to expand on the monochromatic style.
If looking for ideas for decorating your bathroom, then incorporating grey can give it a great modern and minimalist feel.
Grey wall tiles
Grey is a very versatile colour and can be paired with pretty much everything, especially bright colours.
Choosing grey wall tiles can be a nice alternative to the often-cold feeling of plain white. The great thing about grey is that it comes in so many different shades.
This can help break up a room nicely and stop things from looking too uniform. You can even have grey on one or two walls, while choosing a completely different colour on the others.
Grey and white looks great, as does grey and stone. The fantastic thing about grey is it looks good with everything so it's very difficult to get wrong!
Grey paint
If you have your heart set on white tiles then there's no reason why you can paint the non-tiled parts of your wall in grey. Alternatively, you could have three walls tiled in white and the fourth painted grey to create a nice feature.
Choosing a light grey to paint certain areas of your bathroom will provide a nice gentle variation to white, while a darker, charcoal grey will give out a starker contrast.
It's very hard to mess up with grey paint so it's really a case of committing to it and deciding what shade of grey you fancy.
Grey flooring
A popular way many people choose to use grey is by putting it on the floor.
Some people like the clean, minimalist look of a white bathroom, but choose to mix things up by having a grey floor. As you can see in the image above, a grey floor can be pattered and doesn't have to be plain.
Whether it's tiles, laminate or rubber, having a grey floor is a brilliant way of making your bathroom modern and contemporary while maintaining a stylish timelessness.
Some grey bathroom inspiration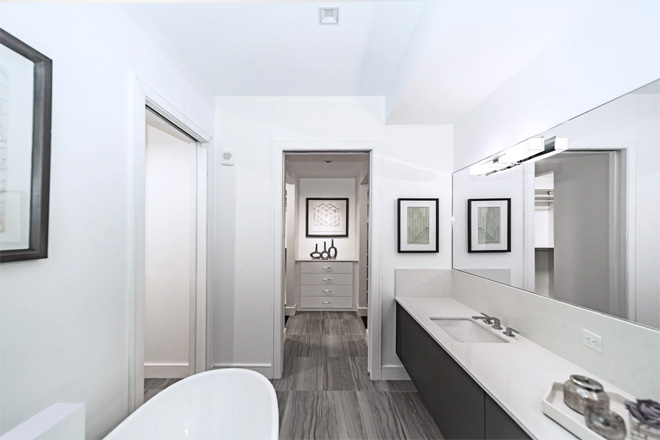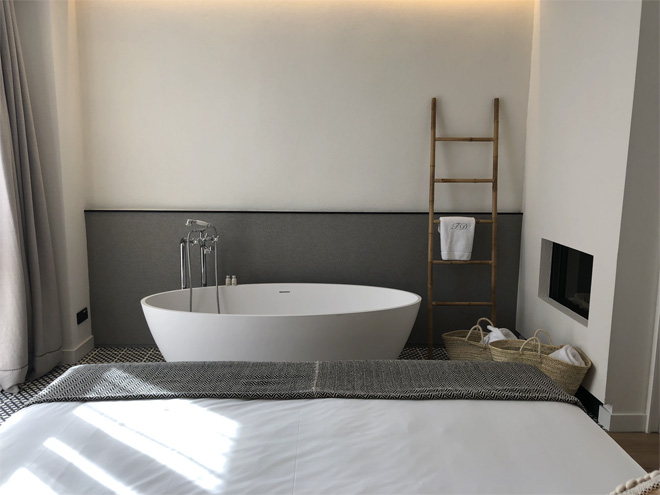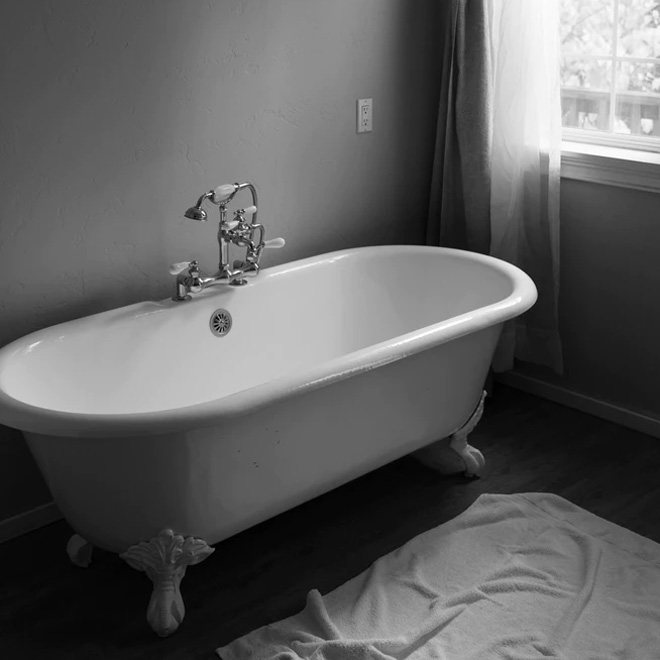 ---
RELATED ARTICLES
• A guide to bathroom colour schemes
• How to add impact to your bathroom with colour