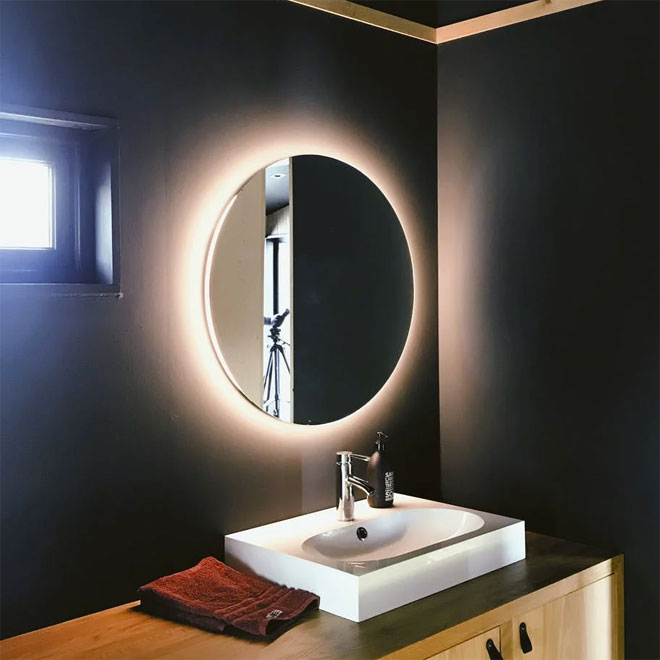 Though we all love the idea of a huge family bathroom, it's not always possible in the modern world. Many of us have small family bathrooms in our homes or perhaps have taken an area from a bedroom to squeeze in an ensuite so are struggling a bit of space.
In this article, we'll suggest a few tips that helps create the illusion of space, even if there isn't much in reality.
Go all light or all dark
It's a tried and tested interior design tip – go with light colours in a small room and you'll make it feel bigger. This still holds true and is one of the main reasons that bathroom decor is often white.If you want to make your small bathroom feel bigger than it actually is then keeping things light will always achieve this goal.
On the other hand, if you are feeling a little more adventurous, you could go in the complete opposite direction and go for a very dark colour scheme. Blacks and dark greys can give the feeling of depth and space, as long as they have a glossy finish and are paired correctly with the right mirroring and lighting. Using dark colours can be a great way of creating the feeling of space while doing things a little differently.
Multiple mirrors
As you probably know, mirrors are fantastic at reflecting light and giving the impression of space. If you've ever been in a room with a huge mirror, it can be easy to forget that the mirror is simply reflecting the room rather than being a gateway to another part of the house.
You can employ this to your benefit in a small bathroom. Creating a mirror wall will definitely help open up the room though even if this is not possible, hanging up a variety of mirrors will create a similar effect.
Making the mirror behind your basin a backlit one will also up the stakes in terms of grandeur and appearance of space.
Remove traditional doors
In a small bathroom, opting for a walking shower without a cumbersome, out-swinging shower door is a great way of maximising the limited space you've got. Having a small, fixed glass screen or even some translucent glass blocks look fantastic and don't take up much space, allowing the light to flow through.
Likewise, instead of having the door to the bathroom on hinges swinging into the room, consider having a pocket door installed. Pocket doors conveniently slide across and disappear into the wall, not only creating the illusion of space, but actually giving you more space to manoeuvre in the process.
No clutter
Clever use of storage is a great way of making your small bathroom feel bigger than it actually is. Bigger bathrooms can get away with things being out on display, but small rooms simply can't so you need to keep the floor and all surfaces clear.
A basin built into a storage unit provides nice clean lines as well as a place to store things. A slimline, mirrored cabinet also provides an excellent storage solution, while reflecting light back into the room. Floating sinks and toilets with hidden cisterns are other common options that maximise floor space.
Getting as creative as you can with storage and generally having a well-thought out space will have fantastic benefits for your space bathroom.
RELATED ARTICLES
• 4 small baths for very small bathrooms
• Baths vs Showers: which uses more water?