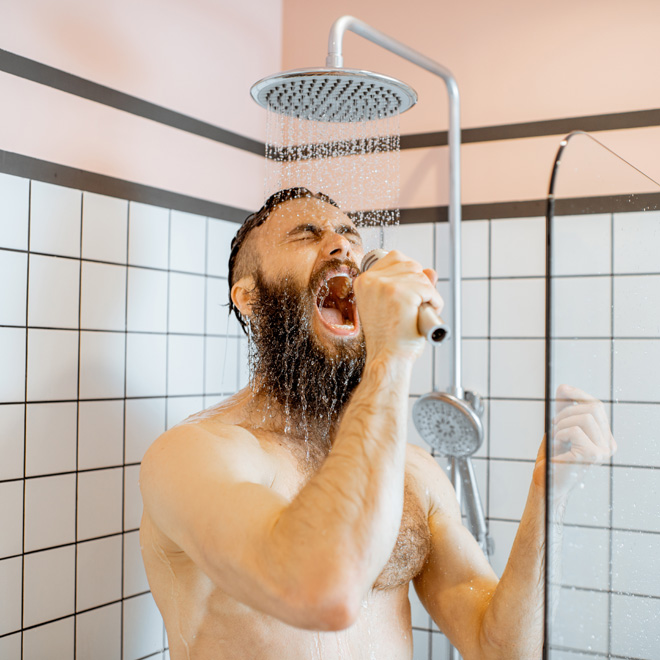 One of the best ways to add an extra layer of relaxation to our bathroom experience is by putting on some music. Whether it's to listen to your favourite artist or you simply want some soothing background noise, having a reliable way to incorporate sound and music is a fantastic addition to the bathroom.
In this article, we'll take a look at a few ways you can safely listen to music without getting your music player wet or risking injury.
Waterproof speakers
One of the easiest ways to inject some tunes into your bathroom is by using some waterproof speakers. There's no need to worry about wiring or even bringing your phone close to the shower, because you can simply connect via bluetooth and let the grooves commence!
There are actually a lot of different waterproof speakers available so you can get exactly what you want depending on your needs. In all likelihood, you're not going to be too concerned about having the best quality sound, especially if the music will be competing with the shower, so you can opt for a small portable speaker that's easy to set up and put away if necessary.
Some are designed to be able to stick to the wall, while others can hang over the shower head. You can even get a larger speaker to sit on a shelf above your sink if you're looking for a more permanent solution. Whatever style you choose, waterproof speakers are the simplest and low-maintenance ways of playing music in your bathroom.
Shower curtain with pockets
If you don't like the idea of a separate speaker or you simply don't have anywhere to place one securely, another straightforward way to get music directly into your shower is by putting in a shower curtain with pockets.
These fancy curtain pockets are like compartments that are completely waterproof and are normally located on the inside of the shower curtain at about head height. Consider them a like a cross between a dry bag and a zip-lock freezer bag where you can put your phone or tablet and relax, knowing that there are protected from getting wet.
The waterproof material is normally tough enough to keep your devices protected, but thin enough for you to touch the screen and tun up the volume or skip tracks. Very hand, very convenient and pretty low cost!
Luna Spas Bluetooth Audio System
If you're looking to take your music-listening experience in your bathroom to the next level then you really should consider the Bluetooth Audio System from Luna Spas.
A truly amazing piece of kit that converts your bath into a crystal clear piece of audio equipment. The kit consists of 2x exciters and a powerful amp. Once the exciters are fixed to the acrylic/steel the sound waves are amplified by the bath and in effect turning it into a giant speaker cone.
The sound produced is crystal clear and it can be heard easily under the water and through the splashing of the whirlpool jets. To control the system simply connect to it via Bluetooth and stream directly from a number of devices to make your relaxing time even more relaxing.
An amazing way to listen to music in your home spa, this is a fantastic way to combine luxury bathing with a beautiful soundscape!
RELATED ARTICLES
• The latest luxury bathroom trends