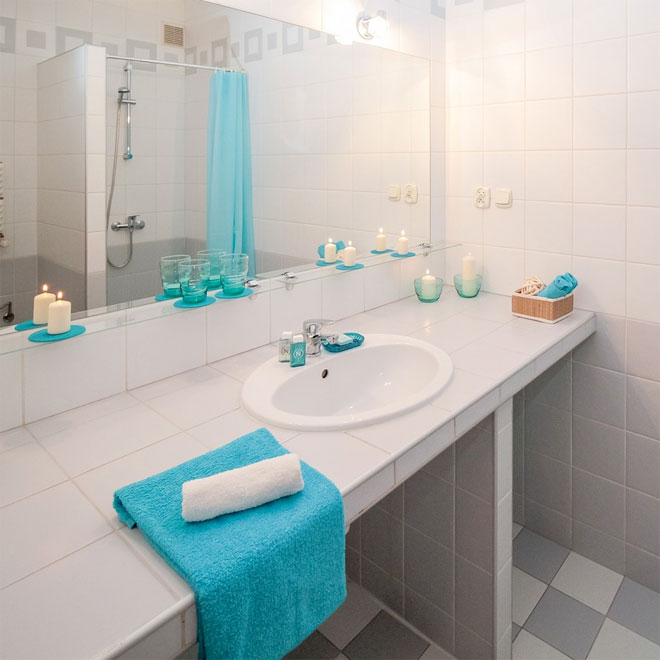 Your bathroom should be a place that you retreat to in order to escape the pressures of work and life. Alternatively, it could simply be a place where you get 5 minutes of time to yourself away from the kids.
However long you get to spend in your bathroom, it definitely needs to be a place that feels relaxing and stress-free.
In this article, we give you some low cost ways you can make your bathroom a little slice of paradise without breaking the bank.
Light some candles
Candles are not expensive, but they can make a huge difference to the lighting of a room. Why switch on the harsh electric light when you can bathe in the soft and gentle light given off by a flickering candle?
Ideally you'll be having a long, hot soak in the tube with the crackling candles, but even stepping out of the shower into candlelight will also leave you feeling more relaxed.
Add in the fact that many candles smell great, lighting a few of these ensures you're onto a winner.
Install some plants
Hanging or window sill plants will add some much needed greenery to your room, giving that feel of nature.
Plants help to purify the air and they add a naturally calming presence to any room, helping your to create your very own mini oasis.
Plants are inexpensive to buy, easy to maintain and are a quick and simple way of de-stressing your bathroom.
Switch on some music
Bluetooth speakers especially designed for the shower are an excellent way to inject some atmosphere into your bathroom.
Whether it's whale calls, jungle sounds or your favourite band, having some music gently playing in your bathroom will help you to feel more chilled out and relaxed while showering.
Declutter your bathroom
Having lots of lotions and potions out on display can easily make your bathroom seem overly busy and cluttered.
This kind of organisational carnage can contribute to feeling stressed and being unable to relax.
This is easy to sort out by putting this away, using storage baskets and throwing away things that you haven't used for years.
Getting back some surfaces and generally giving your bathroom a more minimalist look will automatically make it feel more relaxing and somewhere you want to spend longer in.
RELATED ARTICLES
• How to Add Traditional Elegance to the Bathroom
• Top tips for creating a warm and inviting bathroom