A wet-room is very often found in an ultra-modern hotel and it's the ideal way to create a very sleek, streamlined bathroom in your own home.
If you are considering refurbishing your bathroom to include an open plan wet-room make sure that it will make the best use of space.
What is a wet-room?
A true wet-room features an open plan space that is made completely water-tight (or tanked) and has the water draining away through a drain in the shower area, this means the floor is all one level.
If the bathroom has enough space the wet-room is usually open plan with no glass screens to form an enclosure.
A wet-room is also perfectly suited to those who are less-mobile as it offers very easy access in and out of the shower.
The shower area in a wet-room doesn't have to be restricted to the corner, think about installing it in the middle of the bathroom so it creates a more striking feature.
Is a wet-room suitable for me?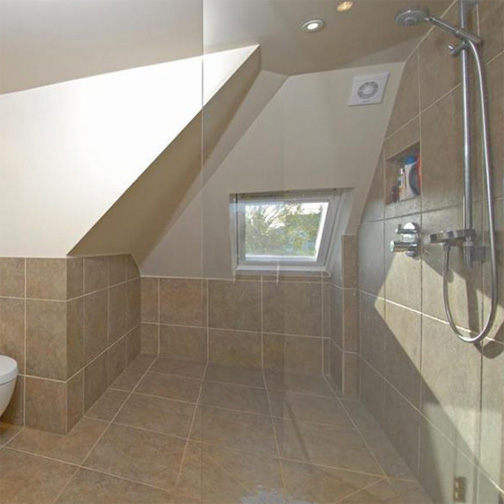 Installing a wet-room can help to create a very light and airy space and is ideal for making the most of a reasonably sized bathroom.
If you have a small bathroom everything is likely to get covered in water every time you have a shower, so it may be worth considering installing a wet-room glass screen to protect items such as loo roll and towels from getting splashed.
If you want a quick and inexpensive bathroom refurbishment installing a wet-room may not be the ideal solution as the whole bathroom will need to be made watertight or tanked, this in itself is costly.
It is recommended that you hire a professional bathroom fitter to carry out the installation work to ensure it is leak proof and trouble free.
Is my bathroom suitable for wet-room installation?
The wet-room decking and membrane are suitable for both concrete and wooden floors.
If possible it is better if the wet-room can be installed into the floor; this prevents you from ending up with a bathroom floor that is at a higher level than the floor outside.
It is important that your bathroom floor is very sturdy as any movements within the floor could possibly cause a leak or a crack in the tiling.
A wet-room is very easy to keep clean, but you may need to clean it more regularly as the entire area will get covered in water every time you shower.
A wet-room provides a very contemporary look, making it more suited to a new build or a modern home.
How should I design my wet-room?
Design your wet-room so that your towels and any furniture are shielded away from the shower and also ensure that the lighting is waterproof.
Including a wet-room glass screen is a great way to protect items in the room from getting covered in water, but still provides a very sleek and minimal look.
A wet-room glass screen can be installed on its own or combined with another panel to form more of an enclosed area.
What flooring is best to use in a wet-room?
Tiles are best suited to a wet-room, make sure you carefully research which ones to use.
For a spa-style look to your wet-room limestone is perfect, but it does need to be sealed to prevent water stains.
Black stone tiles create a very dramatic look but they can show up limescale, so will require regular cleaning. Ceramic tiles are a very affordable option and come in a range of sizes and finishes.
---
RELATED ARTICLES
• How to transform your attic into a stunning bathroom
• Top ideas for creating a perfect family bathroom
• A beautiful selection of relaxing spa baths for your bathroom
---