When redesigning your bathroom, there are plenty of design considerations that you need to take into account to ensure space is used to its full potential, and so that you achieve a look you'll love.
This handy interior design advice for bathrooms is sure to inspire you.
Bathroom planning
Bathroom trends
Wall and floor coverings
Transforming a small bathroom into a luxurious space
---
Bathroom Planning
When you're planning to redesign your bathroom, draw out a plan on graph paper and mark out where the bath, basin, toilet and shower enclosure are located, as well as the position of the window and door too.
Measure how far away the existing waste pipes, plumbing and boiler is from the bathroom. It's also a good idea to take into consideration who will be using the bathroom and how many of you.
You'll also need to work out just how much you want to spend on the bathroom, a list of priorities including what you need and what you would like to include will help with this.
Once you've reached a final decision on the design of the bathroom, and all the fittings and fixtures you want to include, see what you can get for the best possible price, but always choose the best quality that you can afford.
Opt for space-saving products with compact dimensions if you have a small bathroom. Wall-mounted products maximise floor space and create the illusion of a bigger bathroom.
Whether you choose a mirrored cabinet or a vanity unit, storage is vital for any bathroom regardless of its size.
Ventilation is another important element, especially if you don't have a window, so make sure to fit an electric fan to take away the steam.
Bathroom Trends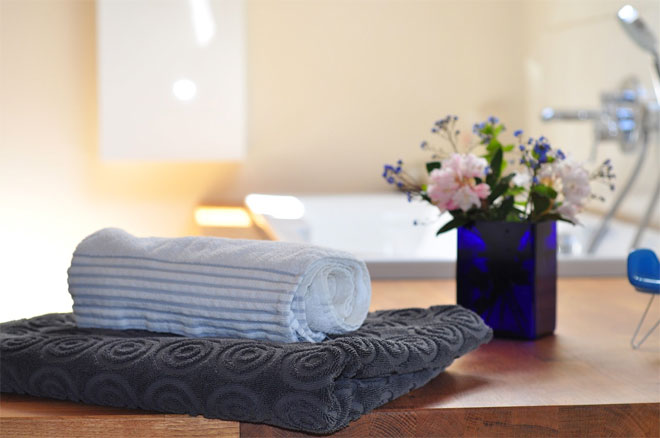 Incorporating décor, furniture and accessories that we might usually see in the living room or bedroom is set to become a big trend this year.
The bathroom doesn't have to look cold and clinical, add comfort and colour to create a space that's a pleasure to spend time in.
Include an armchair, cushions, vases and fluffy rugs in your lounge-style bathroom.
Dark wood bathroom flooring has become a key trend in recent years. Instead of choosing real wood, opt for chic wood-effect porcelain tiles that provide all the warmth of wood, but offer the practical features of ceramic.
A realistic pattern and large, rectangular tile create an on-trend look. For a seamless effect use the same tiles on the floor and walls.
Wall and Floor Coverings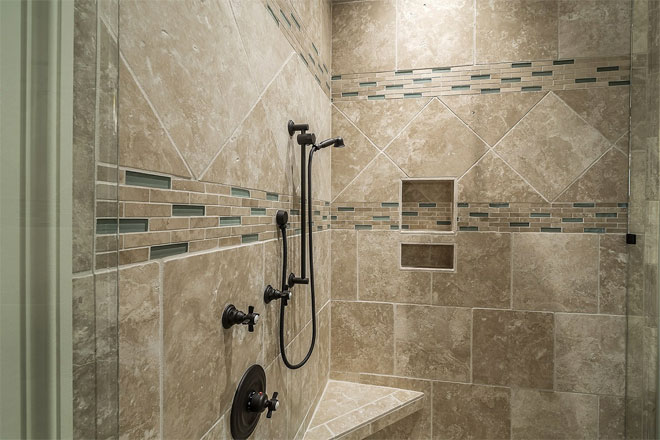 Patterned tiles are great for adding extra interest to the bathroom, especially ones with eye-catching geometric designs in bright colours such as cobalt blue.
If you want to achieve an individual look to your bathroom create a patchwork of mismatched Moroccan tiles.
If you don't want to use tiles in your bathroom you could clad one wall in reclaimed timber boards, and use plain white tiles for the remaining walls, but put the wood on the wall that's furthest away from the water source to prevent damp and rot.
Bathroom flooring has to be practical, especially if you have young children. Although it may sound unglamorous, non-slip vinyl is the ideal choice as it's hygienic and warm to the touch. Opt for a neutral colour and add interest to the wall instead.
Transforming a Small Bathroom into a Luxurious Space
A small bathroom doesn't mean that style and luxury has to be compromised in any way.
Soft lighting, dark colours and clever storage all provide the perfect way to transform a small bathroom into a place where you can relax and unwind.
Dark wall colours combined with a dimmed lighting scheme adds instant glamour and can feel calm.
Adding a statement fixture in a small bathroom can make it feel that bit more luxurious. A whirlpool bath is a great way to add a bit of extravagance to your bathroom. Our Luna Direct, G2, Quantum Whirlpool Bath is a perfect addition to your small bathroom.
In a small bathroom, it's essential that you keep the space clutter free with a mirrored cabinet or a wall-mounted vanity unit. Recessed shelving is another way to add storage so you can display perfume, glass jars and candles.
One of the main advantages of having a small bathroom is that you have less area to cover with flooring or walling. If you only require 3m² of flooring, you might be able to afford to splash out on something totally luxurious.
Contact Luna Spas for more information
If these tips have inspired you to do some interior design within your own bathroom then give Luna Spa a call today at 0141 225 0438 or use our secure online contact form and secure your very own whirlpool bath today.
---
RELATED ARTICLES
• 10 contemporary shower room ideas
• 10 ideas to create a hotel style bathroom
• 5 great ways to update your tired bathroom