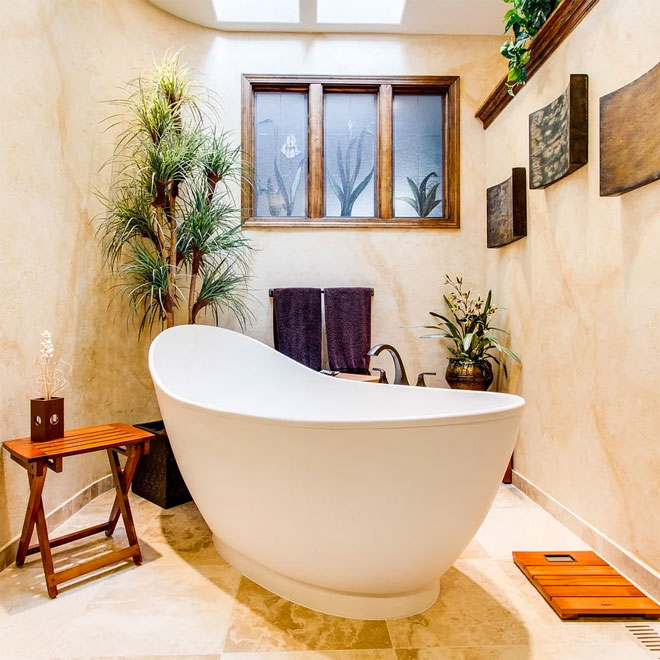 Your main bathroom is an incredibly important room and is an area of your home where you spend a huge amount of time. It's a unique place that serves the dual purpose of getting to ready to face the world and your personal space to retreat from the stresses and strains of every day life.
For those reasons, your bathroom is a room that needs to make you feel fantastic and in this article we'll look at a variety of fantastic bathrooms to help inspire you to create your own personal oasis.
1. The white, minimalist bathroom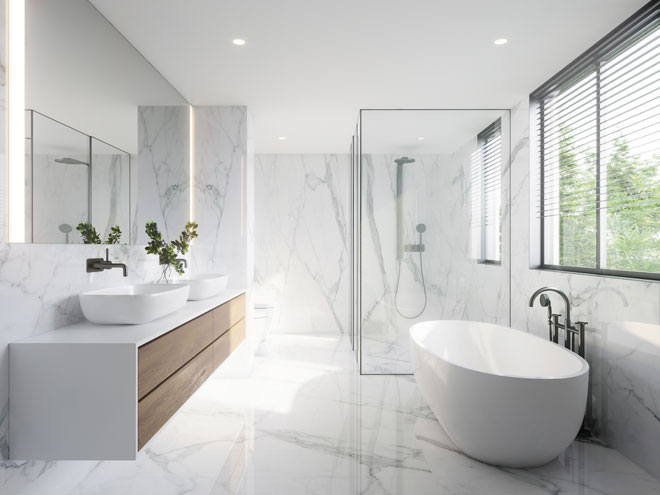 White is a classic colour choice for a bathroom because it denotes a welcoming cleanliness, which is ultimately what a master bathroom should always be about.
In this bathroom, you can see the minimalist style which incorporates straight lines, smooth surfaces and a complete lack of clutter. The marble effect flooring has also been transferred onto the panelling around the shower, creating a beautiful sense of uniformity between floor and wall.
The wall-mounted vanity unit not only provides a useful place to store typical bathroom items but is also easy to clean underneath and gives an increased sense of wall space. Being able to clean a busy bathroom easily is a design feature that is often overlooked, but this bathroom looks like it would be a breeze to keep clean.
This bathroom opts for a freestanding bath with the taps conveniently placed in the centre. This allows for either end to be used to relax against and also offers the opportunity for two people to bathe comfortably at the same time.
2. The oddly-shaped bathroom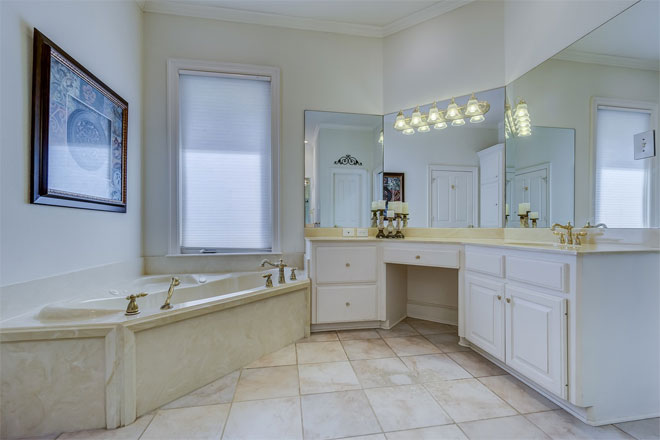 Now, the actual decor of this bathroom may not be to everyone's taste, however a really great job has been done of disguising the fact that this is a very strangely-shaped bathroom.
With a bath straddling one corner and a set of units and strategically-placed mirrors reflect the light and draw your eyes away from the oddities of the walls.
Not everyone has a perfectly square (or rectangular) bathroom, especially as so many bathrooms and ensuites are added or expanded in houses that have already been built. Doing what you can to maximise space and adding features that distract your attention will quickly make you forget about the flaws of a room.
The mirrors, lighting and taps in this bathroom work nicely together to make the most of the space and work together to give a very traditional feel. There's plenty of storage here too which should never be underestimated.
3. The low maintenance wet room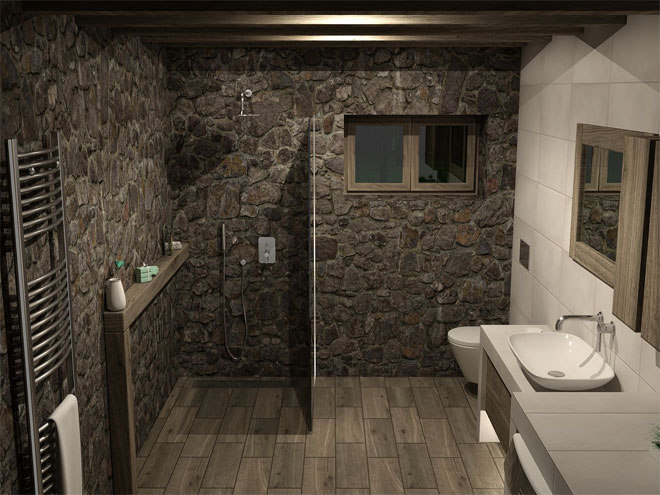 Don't let the beautiful stonework overshadow the fact that this is an incredibly low maintenance bathroom. Why waste time getting having separate shower cubicles or bath tubs when you can simply tile the whole floor and treat it as a wet room?!
All that separates the shower and toilet is a simple shower screen, yet it works perfectly and really makes the use of the space. If you don't need a long soak in the tub and want a bathroom that is easy to clean and simple to shower in, then this could be the type of bathroom for you.
The shower area is so functional. There's a small shelf for your washing essentials and a handily-placed curved bar heated towel rail so you can grab a warm towel immediately after you've finished showering.
Note the wall-mounted toilet which allows any excess water to drain and is easy to keep clean.
4. The well-designed windowless bathroom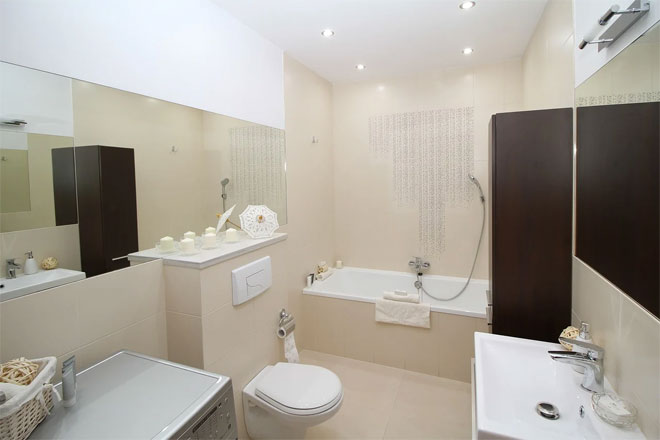 Many homes have bathrooms that are in the centre of the building and don't have the benefit of a window or natural light. As long as the room is well-ventilated, a windowless bathroom doesn't mean it can't feel bright and airy, as this bathroom demonstrates.
Plenty of recessed spotlights and lots of mirrors on opposite walls makes this bathroom very bright, almost allowing you to forget it doesn't actually have a window. The light installed above the mirror on the right hand side would allow you to completely change the atmosphere, switching off the main lights and having something intimate and brooding instead.
This is not a large bathroom but everything has been installed in such a way that it's all easy to access without feeling like you're too cramped. Even the bath taps have been installed in the centre so you can make the most of either end of the tub.
The white and stone tile combination also provides a nice contrast and shows you don't have to go for all-white to achieve a nice, crisp finish.
5. The luxury home spa bathroom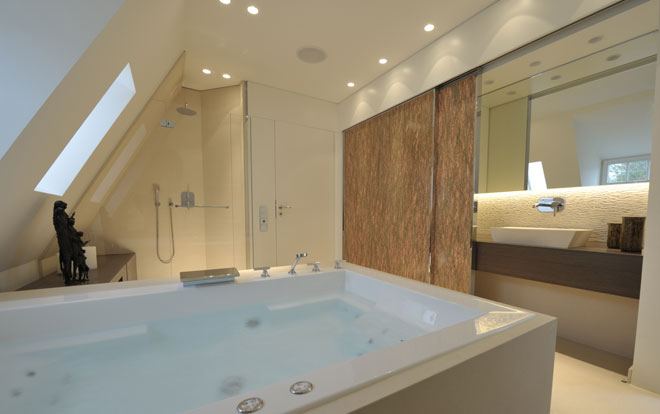 If you have a budget that includes adding some serious luxury to your bathroom then, as this bathroom shows, you can achieve some amazing results.
The massive whirlpool bath means that relaxation was clearly at the forefront of the design. Hydrotherapy has long been associated with lowering stress, easing joint paint and a number of other health benefits and this huge spa bath would allow you to put those theories to the test. It's great to see that a separate shower cubicle has also been included for those times when a quick shower is the perfect option.
The spotlights have been stylishly placed and provide a great compliment to the natural light coming through the window on the sloping roof. The stunning wooden sliding doors mean you can hide the clutter of the basin and storage units and instantly get a look that's stylishly minimalist.
This master bathroom strikes a fantastic balance between luxury and achievability, which is why we like it so much. Most people's master bathrooms don't have the space or budget to create something for an interior design catalogue design catalogue and this particular bathroom demonstrates what can be done with some great design and imagination.
Luna Spas is one of the UK's leaders in the supply of Whirlpool Baths, Shower Baths and Corner Baths. With over 20 years' experience in supplying luxury baths and bathroom appliances we are sure to have the product you are searching for.
---
RELATED ARTICLES
• How to make the most out of odd-shaped bathrooms
• Our quick and simple bathtub buying guide