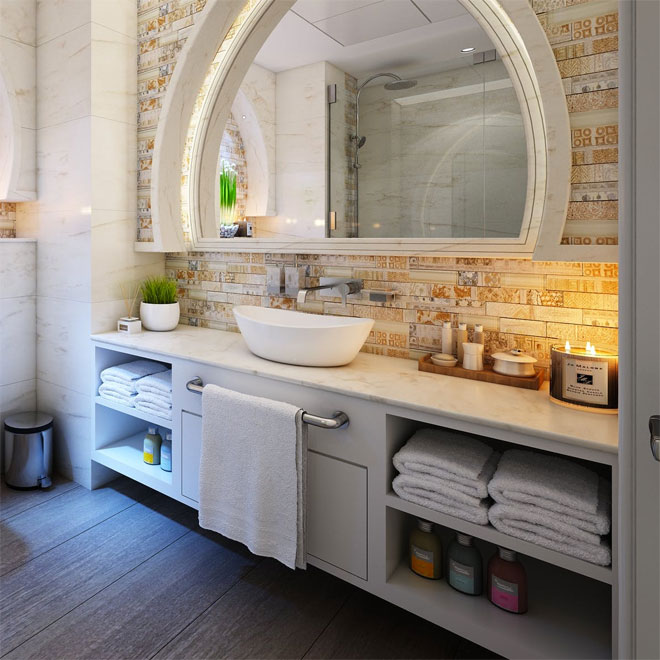 If you're redesigning your bathroom, it's very likely that you're looking at installing a bathroom vanity unit. Not only are they space-saving and very practical, but they can also be incredibly stylish and often become a focal point of the room.
In this article, we'll look at a few important points to keep in mind when choosing the perfect vanity unit for your bathroom.
What are your needs and requirements?
Taking the time before you start to establish what you want out of your new vanity unit will ensure you get the most out of your bathroom and don't endure any costly mistakes.
A good place to start is by actually having a clear out in your current bathroom. Old towels, half-used shampoos, unwanted bubble baths and out of date medication are all common items that clutter and clog a bathroom. This process will help you see what you're left with and what you need to stock up on and help to pave the way for working out what you would put in a vanity storage unit.
The size and shape of your room will also allow you to work out the best dimensions for a vanity unit, cutting out the much of the overwhelm involved n making a decision and getting you to focus on a unit that will actually fit.
What style and colour do you want?
The two main styles of vanity units and traditional/vintage and modern/minimalist and the type of property you have or the surrounding furniture may determine which you decide to go for.
Traditional vanities are often quite ornate, featuring panelling or other period details that evoke a bygone era. Wood is a common material, either painted or raw, and these type of units tend to be floor-mounted.
At the other end of the spectrum, minimalist vanity units are commonly wall-mounted feature clean, crisp lines with hardly any visible detailing. Glossy white and black are common colours and help to give the impression of modernism, cleanliness and organisation.
Where will you put a vanity unit?
The most common place for a bathroom vanity unit is in the same area as the basin. It's nice and convenient to replace an old basin with a new one and incorporate an integrated vanity. This keeps the plumbing the same and helps keep some continuity from the old design to the new.
However, moving a basin and vanity unit to a new spot does require additional planning and is likely to include additional costs to get the pipework correct. Changing from a floor-mounted unit to a wall hung one could also incur extra costs as pipes may need to be hidden.
Wherever it goes, your vanity unit should be easily accessible and should definitely not block the opening of the bathroom or shower door. If drawers included then don't overlook the fact that they need to be open fully without bashing into anything, especially important in a narrow space. It might also make your life easier if it's installed in such a way that it's easy to clean around.
Taps and lighting
Most vanity units designed for bathrooms are provided with a single, rather than a double, tap hole. This means you will have to choose a mixer tap which contains a single lever to get the flow of hot and/or cold water. Take note of the shape and style of the basin in your unit and try and pair it with a similarly-styled tap as this will help with the overall aesthetic of your room.
Consider if you want extra lighting incorporated int your vanity unit too. Backlit mirrors, uplights, downlights or LED strips are all popular choices and can really transform the atmosphere in your bathroom. The choice of having vanity mounted lights in addition to the main overhead light gives you a variety of options, as does the popular possibility of LEDs that run through a range of colours.
The most important thing is that you are happy with your vanity unit and bathroom as a whole, and that it suits you and your family's needs perfectly.
RELATED ARTICLES
• Space saving ideas for your bathroom
• Essential modern bathroom furniture ideas