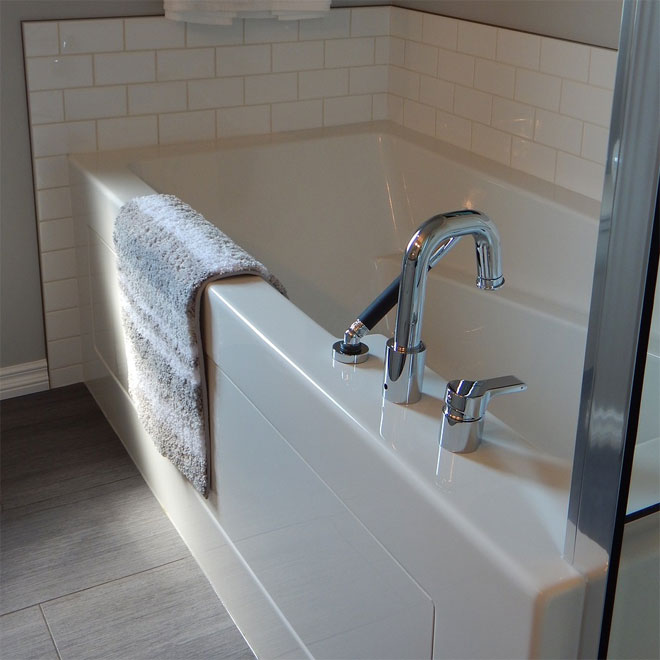 If you are upgrading your bathroom, or even just giving it an economical spruce, one of the jobs that can instantly transform the room is by replacing the panel that runs alongside your bath.
While it's not a particularly difficult job, especially if you are using a pre-made panel, you still need to be a little bit handy with some basic tools and DIY skills.
This article will go through the process of explaining how to replace a pre-made bath panel step by step.
Checking the bath panel frame
If you are replacing the bath panel on an existing bath, it's likely that you have a bath panel frame that exists already.
This is the frame that fits in the space underneath the bath, between the lip at the top and the floor at the bottom and allows you to secure the bath panel in place.
If the existing wooden frame has become rotten and needs replacing, then you should make note of the pieces of wood involved and their measurements.
The frame is usually made up of two long strips of wood that run horizontally top and bottom, and three or four 'battens' that are positioned vertically.
Installing the bath panel
Once you're happy with the underlying frame, it's time to line up your prefabricated bath panel. Most pre-made panels come with screw holes so it's unlikely you'll need to drill any holes.
Do have a spirit level to hand to ensure that you are installing the panel straight and flush against the frame and any other panels.
Give some consideration to how you want to fix the panel to the frame. A fairly common way of doing this is to use some adhesive or super-strong double sided tape.
However, do bear in mind that in the case of any leaks or bath problems, a plumber is likely to need to access the underneath of the bath.
Using screws will make it much easier to remove the panel in the future whereas tearing off a panel that has been fixed in place with a strong adhesive runs the risk of causing irreparable damage.
If you aren't sure that you have the skills to carry out this task, then we always recommend you get in touch with a professional. Not only will they ensure the panel is installed safely, it will also be aesthetically pleasing with the potential to transform your bathroom!
---
RELATED ARTICLES
• Spring cleaning tips for your bathroom
• A guide to bathroom colour schemes