Even with the best intentions, bathrooms can quickly become disorganised and messy. It's not surprising because the bathroom is one of the busiest places in your home.
You're also often in a rush when you're using your bathroom, whether it's in the morning before work, at night before going out or under pressure to get out from young children.
If your bathroom is particularly small, then this problem can be amplified. However, with some creative storage ideas, your disorganised bathroom can be transformed into a well-oiled machine where everything has its place and is easy to find.
Use an Étagère
As we all know, slap a French name on something and it instantly sounds better. An Étagère is basically a set of freestanding, open shelfs that were originally popular in the 19th Century and have recently made a comeback, especially in bathrooms.
This narrow set of shelves avoids you having to install wall cabinets, making them very easy to install and grab things from. Getting an Étagère that is particularly tall also means you're making the most of vertical space, vital in very small bathrooms.
Hang a fabric sink skirt
If you've got a standard sink that doesn't sit on a cupboard or vanity unit, you can create your own by using a piece of fabric.
There's a lot of space under a bathroom sink and you can hide a multitude of sins (or storage)by using a material skirt.
Just by using some velcro and fabric glue, you can create a sort of under-sink curtain that will cover up boxes, towels or anything else you want to hide underneath.
Use a wooden ladder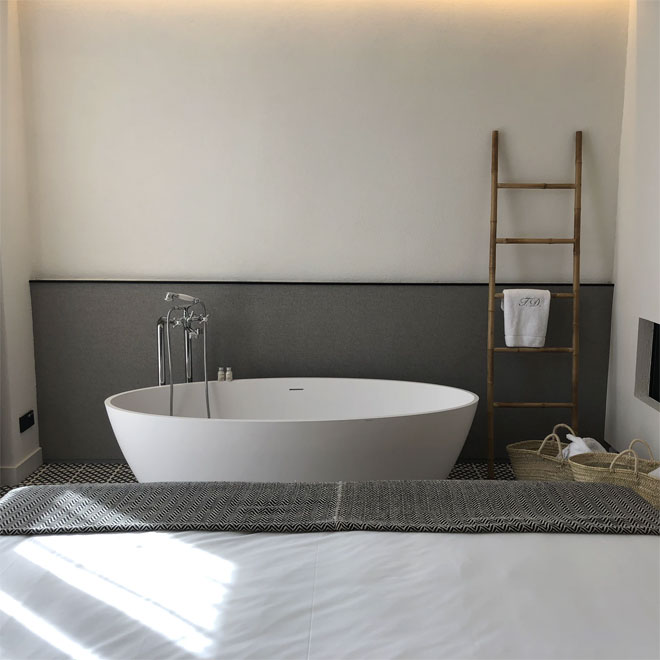 If you want a convenient way to hang towels and don't want to go through the inconvenience of installing a towel rail, then consider putting in a ladder.
If you've watched any interior design shows or flicked through some home style magazines, you won't have failed to notice the increasing trend of adding wooden or bamboo ladders into bathrooms.
Ladders with circular rungs are a great way to hang towels, while the ones with steps act a fantastic little shelves.
If you do decide to do this, obviously avoid metal ladders as you'll give the impression that you're still in the middle of decorating!
Utilise vertical space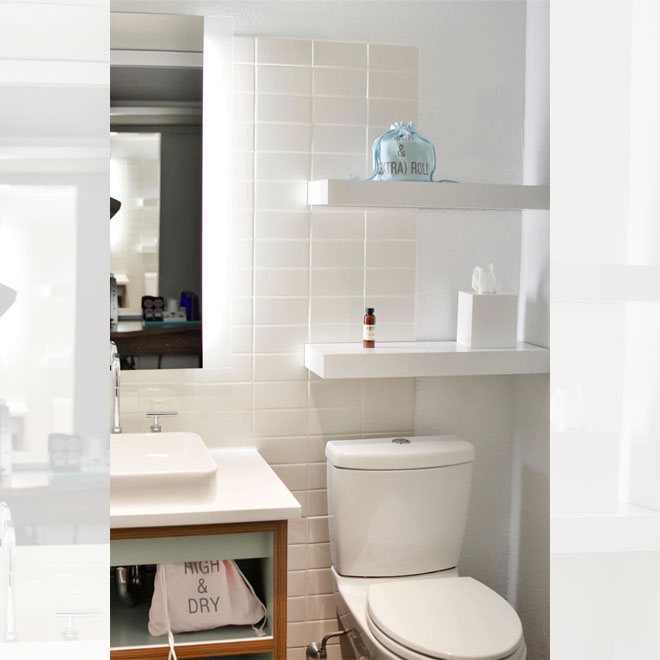 If you've got a very small bathroom that has a tiny footprint with very little horizontal wall space, don't forget to look upwards.
Whether it's shelving for your beauty products or a rack to store clean towels on, making the most of vertical space is very important for maximising storage options in a small bathroom.
There's often a small space over the top of the door and this can be a brilliant place to put a small shelf for things that belong in your bathroom but are only used occasionally.
If there's room, add in a fold up foot stool to make it easy to reach up when needed.
---
RELATED ARTICLES
• 10 of the best designs for small bathrooms
• How to create a feeling of space in a small room