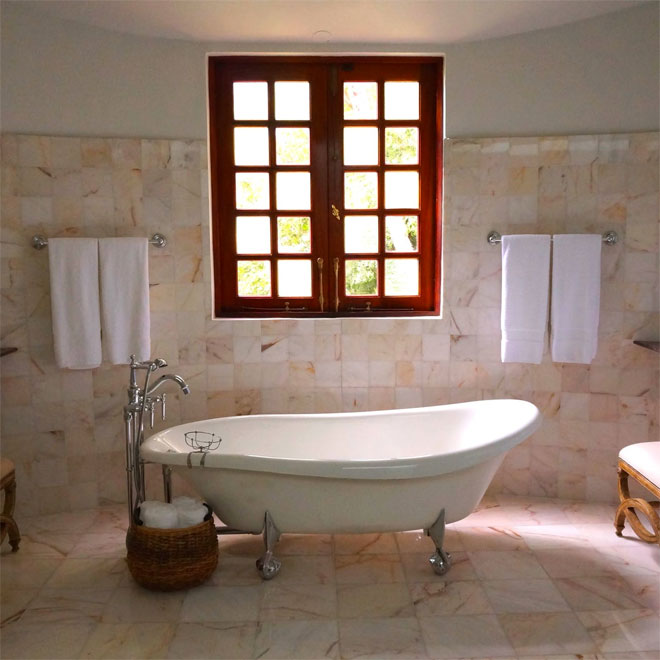 Being able to fully relax in your very own oasis of calm is beneficial mentally and physically. Therefore, choosing a new bath for your bathroom is a very important decision.
In this short and to-the-point guide, we'll help you with what to look for when deciding on the perfect bath to suit your needs.
Bathroom size
Before even looking at baths, you should measure up your bathroom and work out the space you have first.
If you have an existing bathtub and simply want to replace like-for-like then this task will be pretty easy.
However, if you think you could squeeze in a bigger bath or you're dealing with a brand new bathroom, it's important to know approximate dimensions before you start.
Bathtub shape
Once you've measure up your bathroom, it's worth considering the shape of the bath required for the room.
Do you want a standard horizontal bath or would a corner bath be a better use of space? Do you want a freestanding bath that you can completely walk around? Perhaps you'd like a particularly wide bath so two of you can fit in. Would a P-shape bath allow more space for showering?
There are quite a few options when it comes to shape of bathtubs, so give these some serious thought when making your choice.
Bath features
There are many different features to choose from when selecting a bath and it can sometimes seem quite overwhelming, but below are a list of the most common ones to consider:
Mixer or separate taps
Tap positioning – middle or at one end
Easy access – opening door, grab handles
Shower fittings
Popup waste or standard plug
Whirlpool jet system
Chromotherapy LED lights
Touch screen controls
Bath materials
There are different types of materials used in bathtub manufacture, with pros and cons or each. Below are the main ones for you to consider.
Acrylic
The most common bath tub material. Generally considered a good 'all-rounder' due to their cost, weight and ease of styling.
Enamelled Steel
Once the steel has been shaped into a bath, it is then covered in a porcelain coating, giving it a smooth finish. Easy to clean, durable and stylish, this type of bath is heavier than it's acrylic counterparts and is commonly used for freestanding baths.
Cast iron
Fantastic at retaining heat and keeping baths hotter for longer, cast iron baths are incredibly hard wearing. The downsides are they are very heavy, making transportation and installation more difficult and are generally much higher in price.
If you would like further help with choosing one of our luxury whirlpool baths, our friendly staff are happy to help and answer any questions
---
RELATED ARTICLES
• How to install a new bathtub at home
• How to buy a two person bath