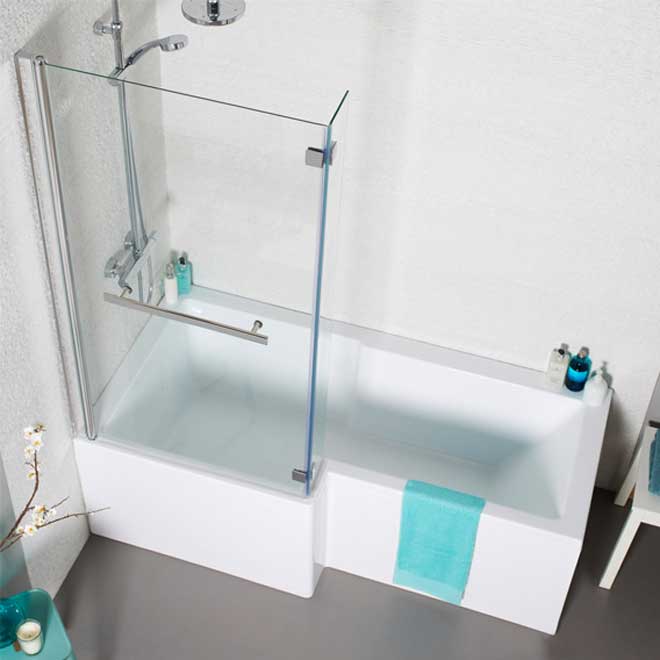 Despite what you may think, whirlpool baths do not have to be rectangular and can actually come in a variety of different shapes.
Whether it's to incorporate a shower, to accommodate those with less mobility or simply to look more aesthetically pleasing, other shapes of bath are available.
Often, these baths are designed in a similar way to certain letters of the alphabet.
For example, a 'D' shaped bath has one straight edge that slots nicely against a wall, while the opposite side has a subtle curve that creates a smoother and more rounded look than a traditional rectangular bath.
A 'P' shaped bath tends to have a more bulbous space at one end, making manoeuvrability easier once you are actually in the bath and adding the option of a shower. This is helpful if there's two people in the bath, if kids are using it or for older people with mobility issues. The P shape is usually available with right or left orientations, so they can also look similar to a lower case 'q', depending on your choice.
The 'L' shaped is similar to the P shape but with a slightly more rectangular design. Again, these provide more room at one end for the possibility of a shower and are also available with a left or right orientation.
Below we show you 4 of our favourite 'letter' shaped luxury whirlpool baths:
Luna D-Shaped – Quantum Whirlpool Bath
Carron Halcyon D-Shaped – Super Lux Whirlpool Bath
Luna Armis P-Shaped – Quantum Shower Whirlpool Bath
Luna Elle L-Shaped – Tranquility Shower Whirlpool Bath
---
1. LUNA D-SHAPED – QUANTUM WHIRLPOOL BATH
If you're in the market for a brand new tub and want to steer clear of a traditional rectangular bath, then the Luna D Shaped Bath could be an excellent choice.
The D shape allows you to place the bath in the centre of wall, allowing access from both ends, rather than being pressed into a corner.
The Quantum measures 1700 x 750mm and features a low-profile, 14 jet whirlpool system providing a relaxing hydromassage effect to your neck, feet and lumbar.
---
2. CARRON HALCYON D-SHAPED – SUPER LUX WHIRLPOOL BATH
Featuring a powerful, yet soothing, 20 flush mini-jet whirlpool system, the Carron Halcyon D Shaped Bath is guaranteed to make you feel relaxed and gain all the benefits of intense hydrotherapy.
This hand-built and incredibly durable bath contains a Carronite triple-layer reinforcement system, which not only means years and years of luxury bathing, but also helps increase heat retention so that a full bath of 250ltrs will continue to stay warm much longer than similar baths in this price range.
The high flow and British made whirlpool system is controlled by a sleek set of controls conveniently mounted inside the bath. This 1750 x 800mm beauty is a shrewd choice for anyone serious about their luxury bath time.
---
3. LUNA ARMIS P-SHAPED – QUANTUM SHOWER WHIRLPOOL BATH
The Luna Armis is a beautifully-designed, P-shaped shower bath, featuring a super-deluxe hinged shower and a high-gloss white panel surround.
Available in left or right orientation, the Armis comes in two sizes, 1500 x 850mm or 1700 x 850mm and both feature the luxury 14 jet Quantum Whirlpool System.
The 6 directional body jets and the 8 multi-massage jets provide all the delights you would expect from a hydrotherapy experience, focusing on a full body massage effect.
A simple-to-use and incredibly stylish dial controls the airflow to the jets, providing you with a design classic that would give a very contemporary feel to any bathroom.
---
4. LUNA ELLE L-SHAPED – TRANQUILITY SHOWER WHIRLPOOL BATH
Coming with the option of left or right orientation, the Luna Elle L-shaped also comes in two different sizes, depending on your space requirements: 1500 x 850mm or 1700 x 850mm.
Supplied with a deluxe shower screen, the Elle features a more traditional rectangular design. Yet with it's high gloss white finish, the bath also lends an air of modernity to any bathroom it's installed in.
The 24 jet Tranquility system ensures that you get a pulsating hydromassage and chromotherapy session across your whole body, if the mood takes you. Equally, the touch sensitive waterproof panel controls allows you to dial down the jets with ease and provides the facility for you to switch on the full-spectrum LED lights and set the relaxing atmosphere of your choice.
---
RELATED ARTICLES
• Our top 5 bathrooms with freestanding baths
• Our top 5 corner whirlpool baths