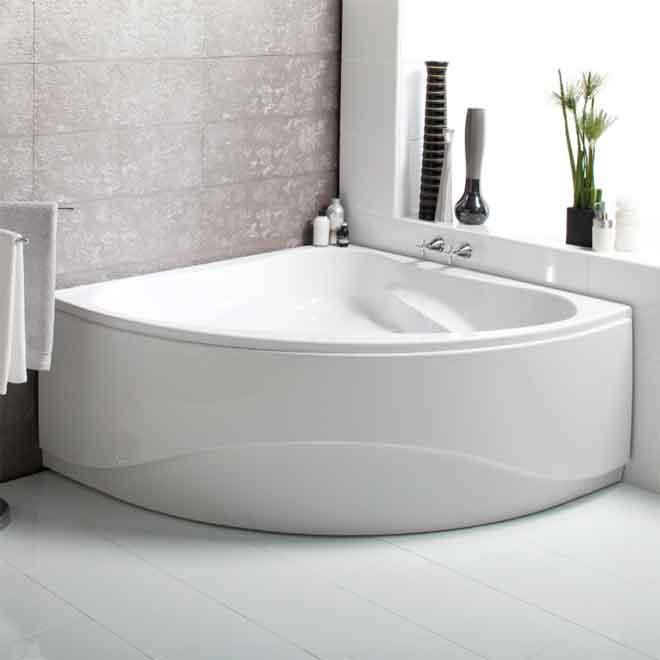 Adding a corner bath to your bathroom is a fantastic way to introduce some luxury and comfort into your home.
Not only to the look amazing, corner baths also make the most of available space, meaning you can have a roomy bath even if your bathroom is not that large.
Naturally, here at Luna Spas, we have a lovely selection of luxury corner baths and below we offer our five favourites.
Luna Sevilla – Super Lux Corner whirlpool Bath
Kartell Lagoon – Tranquility Corner Whirlpool Bath
Carron Omega RH – Super Lux Offset Whirlpool Bath
Luna J-Shaped LH – Quantum Offset Whirlpool Bath
Trojan Orlando LH – Quantum Offset Whirlpool Bath
---
1. LUNA SEVILLA – SUPER LUX CORNER WHIRLPOOL BATH
Available in two different sizes (1300 x 1300mm and 1500 x 1500mm), the Luna Sevilla has superb and contemporary styling, symmetrically-shaped and featuring stunning classical lines.
Features include a 20 flush mini jet system, electronic touchpad and British-made low noise pump.
A serious consideration for anyone thinking of installing a classic corner bath in their bathroom.
---
2. KARTELL LAGOON – TRANQUILITY CORNER WHIRLPOOL BATH
This compact corner bath combines great modern styling with perfect symmetry, resulting in a bathing area that is very large for its 1350 x 1350mm dimensions.
A 20 year guarantee is testament to this bath's high quality manufacturing standards providing the ultimate in heat retention, rigidity and strength.
---
3. CARRON OMEGA RH – SUPER LUX OFFSET WHIRLPOOL BATH
The Omega from Carron is a uniquely shaped bath with dimensions of 1700 x 1000mm, perfect for a long deep soak.
Although the right hand version is featured here, this is also available with a left-handed version, giving you the flexibility to install this bath in a corner that suits you.
A variety of luxury upgrades are also available.
---
4. LUNA J-SHAPED LH – QUANTUM OFFSET WHIRLPOOL BATH
Specifically designed to make the most of limited available space, the J-Shape is available in 1700 x 725mm, with a one-piece panel included.
The uncompromising yet elegant design comes with a 20 year guarantee and features a 14 jet Quantum Whirlpool System and gorgeous flush fit, chrome controls for the ultimate in luxury.
---
5. TROJAN ORLANDO LH – QUANTUM OFFSET WHIRLPOOL BATH
This smooth and exciting design measures in at 1500 x 1050mm and is constructed to fit precisely in the corner of your bathroom to get the full luxurious experience, even if your bathroom is not that big.
The 14 jet Whirlpool System contains an irresistible child-pr0of Safe-Flow chrome suction filter, designed to stop the high water pressure in the event of caught hair or fingers.
---
RELATED ARTICLES
• Our top 5 bathrooms with freestanding baths
• Top tips for creating a modern cloakroom suite
• A beautiful selection of relaxing spa baths for your bathroom