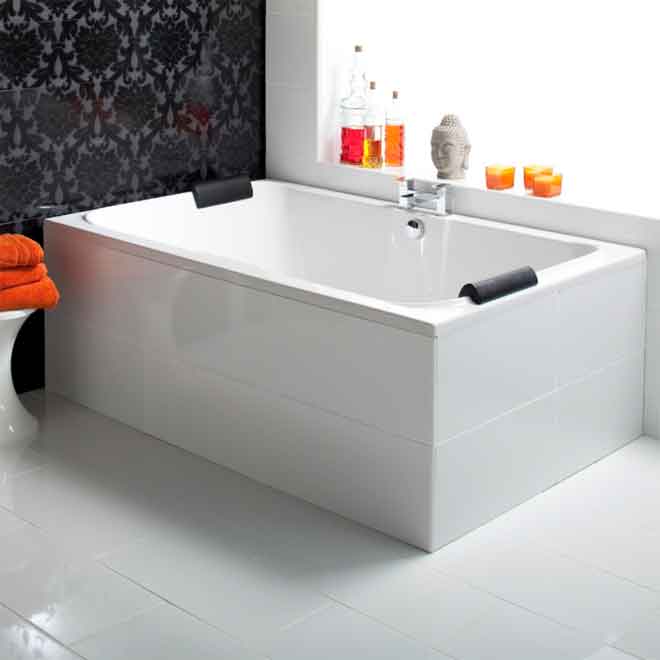 Adding a luxury double-ended bath is an amazing way to add some luxury and romance into your bathroom.
Because the taps and controls tend to be positioned in the centre, it means that two people can comfortably sit at either end, instantly increasing the romance factor.
Of course, here at Luna Spas, we love to encourage that kind of behaviour and we have gorgeous selection of double-ended baths. below we offer five of our favourites.
Luna Tamar – Quantum Double Ended Whirlpool Bath
Luna Iris – Super Lux Double Ended Whirlpool Bath
Roca Vythos DE – Quantum Double Ended Whirlpool Bath
Carron Haiku – Tranquility Double Ended Whirlpool Bath
Riho Grande – Super Lux Double Ended Whirlpool Bath
---
1. LUNA TAMAR – QUANTUM DOUBLE ENDED WHIRLPOOL BATH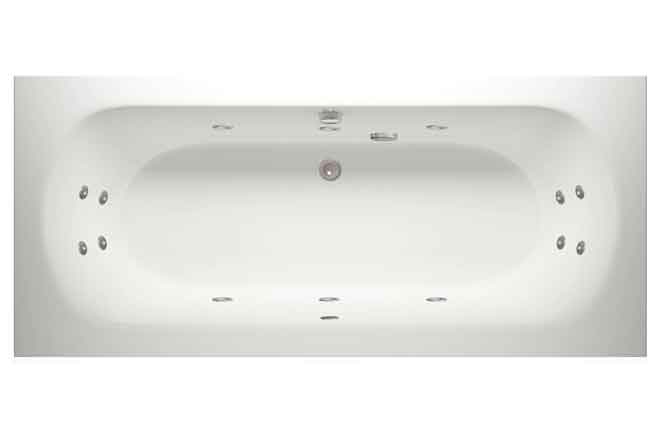 Available in 3 different sizes: 1700 x 700mm, 1700 x 750mm and 1800 x 800mm, the Tamar has a massive bathing area and sleek rounded lines, which helps to give this bath a seriously luxurious feel.
The 14 jet Quantum Whirlpool System features 6 directional body jets and 8 multi massage jets which intensely targets pressure points on the shoulders, neck and feet and provides a powerful hydromassage effect.
---
2. LUNA IRIS – SUPER LUX DOUBLE ENDED WHIRLPOOL BATH
The Luna Iris contains our 20 jet Super Lux system which combines flush mini jets with a powerful high air to water mix ratio – providing a superbly relaxing hydromassage experience.
The unbroken, clean lines, along with the geometric design gives this bath a very simple and classic shape, ensuring a quality experience which will definitely surpass expectations.
Available in sizes 1700 x 700mm, 1700 x 750mm and 1800 x 800mm.
---
3. ROCA VYTHOS DE – QUANTUM DOUBLE ENDED WHIRLPOOL BATH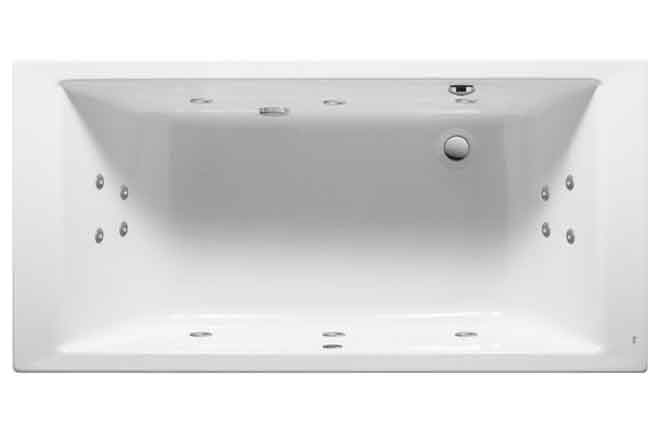 For decades now, Roca have been at the cutting edge of amazing whirlpool bath design, and the Vythos DE most definitely continues in that same vein.
Coming in sizes of 1700 x 800mm or 1800 x 900mm, the Vythos DE is an absolutely perfect balance of minimalism and style, all contained in extremely sturdy construction.
With a long, comprehensive guarantee of 25 years, the Vythos DE will provide you with a huge amount of luxury bathing for years and years to come.
---
4. CARRON HAIKU – TRANQUILITY DOUBLE ENDED WHIRLPOOL BATH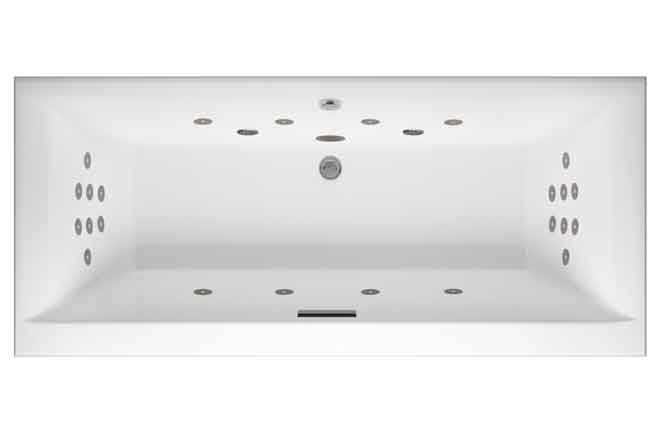 Coming with an outrageously powerful 24 jet tranquility whirlpool system, the Carron Haiku double ended bath features a uniquely-designed curved lip for optimum bathing comfort.
This bath is also manufactured from the highly-durable Carronite, making the bath stronger and heavier than standard acrylic baths, helping it to keep heat inside the bath for longer.
Available in dimensions of 1700 x 800mm, 1800 x 800 and 1800 x 900mm.
---
5. RIHO GRANDE – SUPER LUX DOUBLE ENDED WHIRLPOOL BATH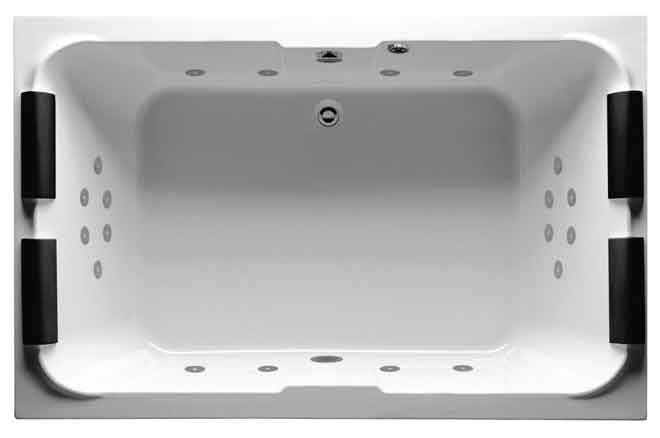 An absolute monster that can be considered the gold standard of luxury baths, the Riho Grande measures a whopping 1800 x 1150mm, meaning it can comfortably accommodate the two of you with ease.
The 20 jet Super Lux system is controlled by an easy-use, waterproof touchpad inside the bath, with a range of exciting settings.
It also comes with the child-proof Safe Flow chrome suction filter which cuts off the water pressure in case of body or hair entanglement. Piece of mind, especially if you have little ones on board.
---
RELATED ARTICLES
• Our top 5 bathrooms with freestanding baths
• Our top 5 corner whirlpool baths