When imaging your dream bathroom, one of the first things that springs to mind is the romantic idea of a freestanding bath.
A large, deep bath that you can relax in with a glass of wine while soaking up the suds is a must for anyone thinking about planning their new bathroom.
If you do have the finances and the space to incorporate a large freestanding bath into your plans then it's definitely worth considering.
Having a place where you can shut the door and forget about the stresses and strains of everyday life is becoming increasingly important, and there's nowhere better to do this than in the comfort of your own bathroom.
To give you some inspiration, we've included some fantastic examples of freestanding baths below.
---
THE MINIMALIST WETROOM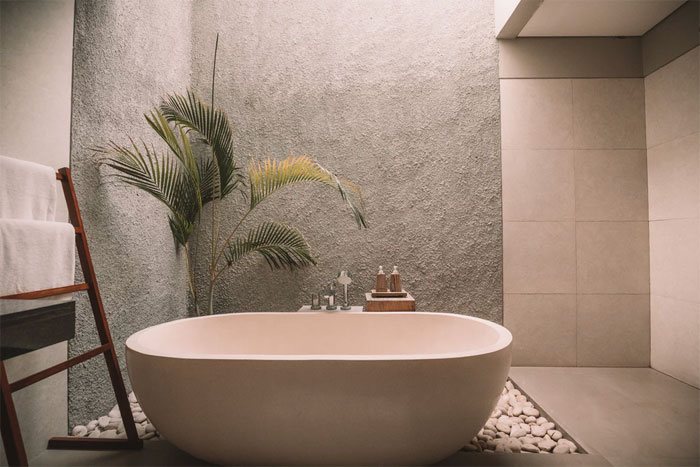 This lovely example bathroom is almost tropical in fee, with stunning lighting from above and a plant to give the room a dash of greenery.
The freestanding bath resting on the carefully-placed pebbles is a stylish touch, as is the old wooden ladder propped against the wall and used as a towel rail.
---
THE BEDROOM / BATHROOM COMBO
If you've got the space and the plumbing allows for it, why not add a large freestanding bath to your bedroom? It certainly saves the time and effort of going into another room and minimises the chilly dash between hot bath and cosy bed sheets.
This monochrome room has been decked out very stylishly and, as above, the introduction of a wooden ladder as a towel rail provides a nice counterpoint to the grey and white tones.
---
THE ROOM WITH A VIEW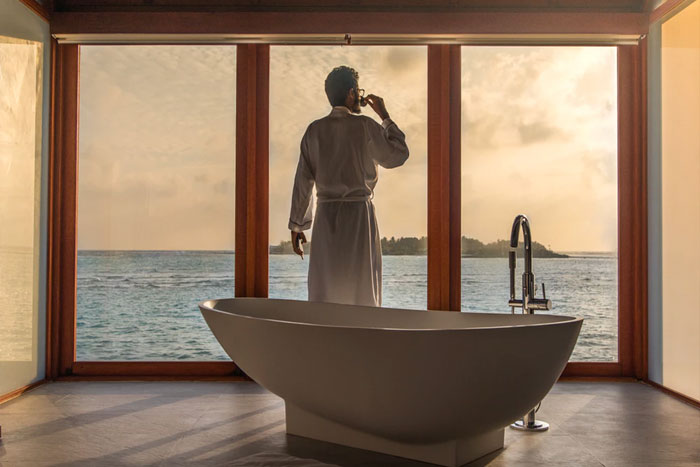 Despite the man doing his best to block it, this freestanding bath has an absolutely fantastic view of the sea and a far off island.
If you are lucky enough to live by the sea, then why not consider adapting your living environment to take in the amazing view – if you've got the space, time, money, contacts and desire to do it!
Unlike this bathroom however, don't forget to install a toilet. They can come in quite useful.
---
THE BATHROOM AT THE CLIFF FACE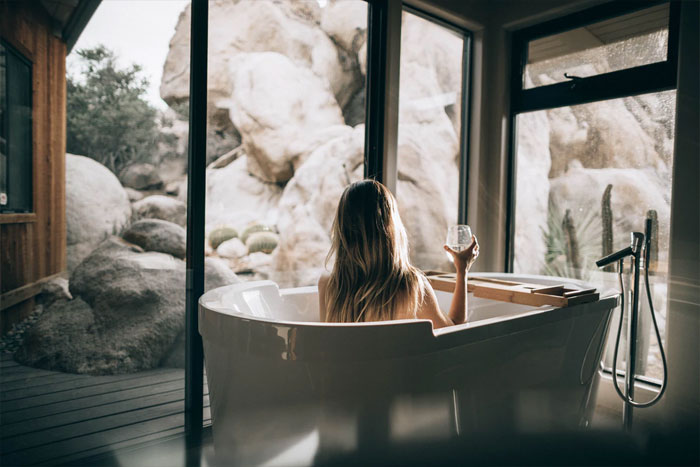 What a beautiful view from this freestanding bath overlooking a rocky formation within the Joshua Tree National Park.
With a high back, which makes it perfect for leaning back and relaxing, this bath also contains one of the most underrated bathroom accessories – the wooden bath tray. Perfect for resting a glass of wine, perhaps a candle and a few nibbles and sticking on your favourite U2 album.
---
THE ALFRESCO EXPERIENCE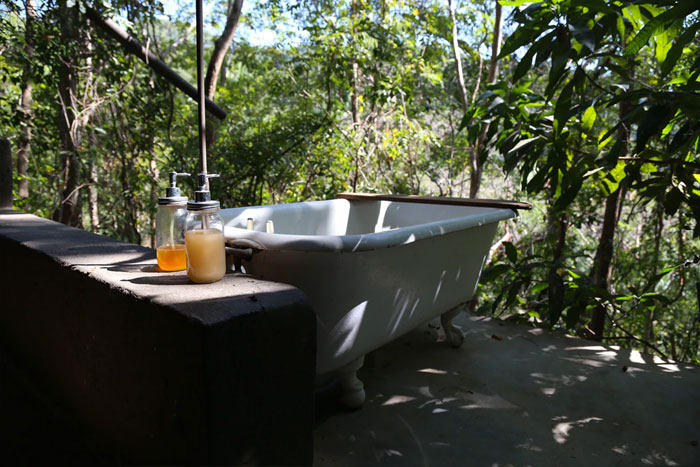 Ok, so in the UK the climate might not often be appropriate for having a bath outside, but it's certainly a lovely idea.
With a lovely view and surrounded by trees, the owner of this bath has opted for the sensible approach and placed it on a concrete base.
The shampoo and conditioner is a convenient condition but we do wonder whether this has been plumbed in or if you have to fill up buckets of hot water and pour it in? Either way. it looks nice.
---
RELATED ARTICLES
• How to choose the right bath for your bathroom
• The different types of shower options for your bathroom