With many of our whirlpool baths, you can choose to upgrade to include to include a shower valve kit and, in many case, a shower screen.
Whether you need to have a shower with your bath is a personal decision and depends on certain factors.
In this article, we'll take a look at why you might choose a luxury whirlpool bath with a shower.
Convenience
If you are going to install a whirlpool bath in your main bathroom, then you may wish to consider including a shower along with it.
There will be times when you're in a hurry and just need a quick shower rather than the extended time it takes to fully enjoy a bath.
This convenience is particularly important if you don't have a second bathroom or ensuite with a shower. Even if you do have an additional shower, consider whether transferring from your whirlpool bath into a separate shower (which could be in another room) is worth the effort.
Installation
If you are remodelling your bathroom and part of your design plan includes having a whirlpool bath then consider the implications of installing a showering facility at the same time.
If you hadn't considered having a shower with your whirlpool bath up until now, then obviously your budget would need to increase to accommodate the extra purchase and installation costs.
Many of are whirlpool baths can have showers fitted at a later date, so that's certainly an option. However, you need to decide if it's worth the disruption of two separate jobs or whether it's more convenient to get it all done in one go.
Cost
When considering whether to include a shower with your whirlpool bath, you will always need to factor in the extra cost for this functionality.
While shower screens are included with all of our shower whirlpool baths, you will need to select your shower valve kit separately.
Fortunately, all of the shower valve kits in our catalogue are compatible with all models of shower whirlpool bath and have a price range of between £200 – £500.
Special mention must go to our Marflow Savini Thermostatic Shower Valve Kit which can be used in conjunction with the JetFill, allowing the valve on the wall to control filling the bath through the whirlpool jets. A lovely and luxurious feature.
Whirlpool baths with shower option
We have a variety of P and L shaped baths that are deliberately wider at one end to allow comfortable room for the movement involved in washing under a shower.
All of these specially-shaped combo baths are provided with a shower screen as standard. You also get the option of adding a shower valve kit of your choice at the time of purchase, or with the peace of mind that you can add it at a later date.
Bathe Easy – Solarna Super Lux Shower Whirlpool Bath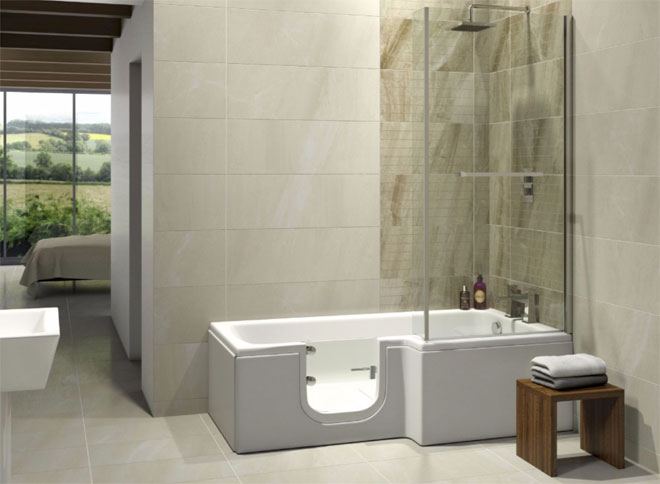 The Solarna is a fantastic bath that provides an easy way to combine your bathing and showering. The opening glass door makes it simple to enter and exit the bath without the need for clambering over the rim of the bath.
This classic L shape bath is available with left or right orientations and is in a timeless style that simply won't date.
The Solarna is provided with a luxury fitted shower screen and is compatible with any of our amazing shower valve kits at the time of purchase or as a later addition.
Carron Celsius Quantum Shower Whirlpool Bath
This impressive shower-bath combo is the flagship model from the Carron Celsius range and is one of the most stylish in our catalogue.
Supplied with the choice of a single curved or wraparound shower screen, the Celsius comes in a good-looking but very practical p shape design.
The slightly bulbous end gives you plenty of wiggle room for an enjoyable shower, allowing you to move around freely much like having a separate shower cubicle.
Carron Urban Swing Tranquility Shower Whirlpool Bath
The funkily-named Urban Swing bath by Carron is a super cool example of whirlpool shower bath design. It's compact dimensions means it's a great option for those who want big bath features in a small bathroom.
This Urban Swing is an L shaped bath cleverly disguised as a standard rectangular one. This enables the room for standing up to have a shower and also provides a convenient shelf for putting such things as glasses, bluetooth speak or a glass of wine.
Coming with a deluxe hinged shower screen, the Carron Urban Swing is a really good choice for those who want a luxury whirlpool shower bath in a bathroom not blessed with space.
RELATED ARTICLES
• Finding a comfortable bath for your home
• Baths with doors: what should you look for?