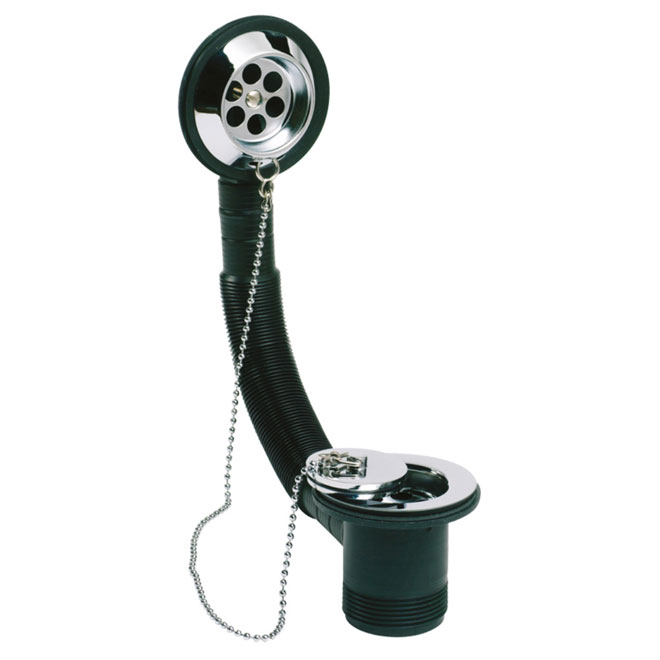 The bath waste is the part responsible for the safe drainage of your bath once you let the plug out. It is also connected to the overflow which allows excess water to flow away if the plug is in and the bath is filled up too much.
Sometimes the bath waste can corrode and start leaking, so it's important to replace these components so that there is not too much water damage. and other complications.
In this article, we'll show you how to replace your bath waste and overflow system so you have the confidence to do this easy task yourself.
Undo the screw in the centre of the slotted waste cover
Remove the slotted waste cover and the large washer underneath
Locate the plastic waste connector under the bath and remove from piping
Disconnect the pipe and unscrew the overflow connector rose
Connect new waste trap underneath the bath
Connect new overflow to pipe and screw into back of bath
Screw in new overflow and waste trap covers into the bath
Step 1 – Remove the old waste
In the centre of your waste cover, there will probably be a screw. Unscrew it and you should be able to pull the outer cover of the waste away from the bath.
There's likely to be a large washer underneath that should also just lift out. Clean the hole of any old sealant so the new waste can slot in nice and easily.
Step 2 – Disconnect the connector and pipe
A plastic pipe runs from the bottom of the bath up to the overflow rose high up at the end of the bath. At each end of the pipe are connectors that screw into the waste trap and the overflow fitting on the bath.
Remove the pipe from these connectors and unscrew both connectors from their respective positions on the bath.
Step 3 – Connect new fittings to new pipe
Take your new waste and overflow system from the box and spread out the components.
You should recognise the individual parts and notice they similarly match up to the fittings you've just removed.
Take the new plastic waste and connect it to one end of the new plastic pipe and do the same at the other end with the new plastic overflow.
Step 4 – Connect up to bath
Underneath the bath, screw or push the waste up into the hole and connect onto the the chunky trap pipe underneath.
Inside the bath, add the new waste cover and ensure it is secured in place.
Push the new overflow into the back of the bath and on the front, screw in the rose or new overflow cover.
If you have a traditional-style plug-on-chain, take a pair of pliers and manoeuvre the top of the chain so it connects to the overflow rose.
---
RELATED ARTICLES
• How to clean a whirlpool bath
• How to fit and install a bath screen